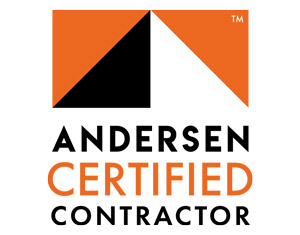 Choose With Confidence
Choose an Andersen Certified Contractor like Renaissance Exteriors & Remodeling and have confidence that the product will be installed correctly and to the program's rigorous installation standards. Contact us today to learn more about Andersen Windows.
Warranty: Andersen Certified Contractor installations are backed with a 2-year limited warranty in addition to the standard Andersen limited warranty of 20 years on glass and 10 years on non-glass components.
Training: Andersen Certified Contractors are trained by experts on installing all Andersen windows, patio doors, and accessories.
Support: Andersen Certified Contractors receive ongoing product information and on-site support from Andersen.
Confidence: Andersen Certified Contractors are backed by the brand of windows and patio doors trade professionals trust and recommend most.
For over 117 years, Andersen has been making windows and doors that are different and better. Pioneering new products, setting higher standards for the entire industry, and, ultimately, becoming America's premier window manufacturer.
As a result, Andersen is the MOST TRUSTED and MOST RECOMMENDED brand of windows and patio doors among homeowners and residential contractors, and builders.
Most Trusted Brand
When it comes to windows and doors, residential contractors and builders agree that Andersen is:
A brand that has the BEST QUALITY of windows & doors
The MOST REQUESTED BRAND of windows & doors
A brand that has products that are EASIEST TO INSTALL, even in less than perfect openings
A brand that has products that WITHSTAND THE TEST OF TIME
A brand with the BEST OVERALL VALUE
Most Preferred Brand
Homeowners agree that Andersen is the brand that:
INCREASES THE VALUE of their home
Offers products that FIT THEIR BUDGET
Has a reputation for being ENVIRONMENTALLY RESPONSIBLE
Has products that are RIGHT FOR THEIR PROJECTS
STANDS BEHIND ITS PRODUCTS
Industry-Leading Warranty
Customer Satisfaction is a focus at Andersen:
20/10 Owner-2-Owner limited warranty for Andersen products is fully transferable and not prorated
Andersen Certified Contractor installations are backed with an additional 2-year limited warranty
No transfer fees or registration paperwork required for warranty coverage
Warranty documents include easy to understand language, making it clear what is or is not covered
Products include a Product ID label, allowing for easier product identification if needed
Visit andersenwindows.com/support or call 1-888-888-7020 for product support including warranty details, care & maintenance guides, videos, and more