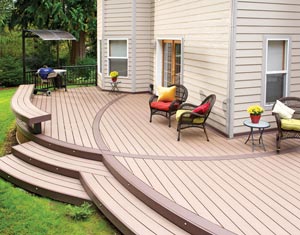 Have you always dreamed of having a backyard deck, but didn't want to deal with the hassle of painting or staining? You're not alone.
More and more homeowners are turning to composite decking, which requires far less maintenance than traditional wood decking. Our Grand Rapids composite deck contractors work hard to earn your business by designing your new deck and handling installation.
Durable and Weather-Resistant
If you are looking for low-maintenance decking, you've come to the right place. Composite decking is specially engineered to resist stains and scratches.
Composite decking features include:
Stain resistance
Scratch resistance
Split resistance
Moisture resistance
Insect resistance
Mold and mildew resistance
Durability
Limited lifetime warranty
Building code listings ESR-1667 & CCRR-0101
---
Eco-Friendly
Did you know the average 500-square-foot composite deck contains roughly 140,000 recycled plastic bags? Certain brands also use locally sourced reclaimed wood to reduce how much goes into landfills. We trust composite decking for our customers because it is eco-friendly, yet durable enough to withstand Michigan weather. Unlike other decking materials, composite decking has a special shell that protects it from the elements so it doesn't fade, split, rot, or swell.
Low Maintenance
Many of our customers also prefer composite decking to wood because it is low maintenance. To clean composite wood decking, simply use soap and water. You may also choose to gently power wash composite deck boards so you can enjoy your new outdoor living space for years to come. Composite decking gives you the natural aesthetic of wood without the need to stain, seal, or paint. Composite decking colors come in shades of gray, red, brown, and beige.
Request a Design Consultation for Composite Decking
The Grand Rapids deck builders at Renaissance Exteriors & Remodeling always strive to create durable, beautiful composite decks for clients. If you are interested in making plans for a new composite deck, be sure to schedule your in-home consultation with us at (616) 446-1248.