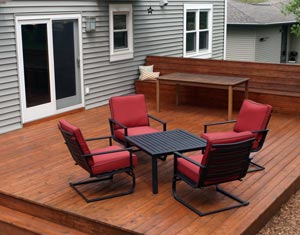 Many homeowners appreciate the natural look and feel of hardwood decking.
Whether you are interested in using pressure treated lumber or cedar lumber, our deck builders at Renaissance Exteriors work with you from design to construction so you get the deck of your dreams.
Pressure Treated
Pressure treated deck boards are so popular because of their affordability. To protect your deck from rot and insect activity, each board is chemically treated before it even gets to us. Given proper maintenance, decks made from pressure treated lumber last between 10 and 15 years.
If you would like to stain your deck a specific color, you may also want to consider pressure treated lumber. Pressure treated lumber takes wood stain and wood sealer very well. Using pressure treated lumber also reduces your deck's impact on the environment because it doesn't have to be replaced as often as other deck materials.
Cedar Lumber
Cedar decking boards can be treated with wood sealer to give you any color or aesthetic you want. If you wish to fully customize your backyard deck, you may want to consider the design possibilities of a cedar lumber deck. Cedar lumber is durable, which means it is able to maintain its natural beauty for years to come.
The Grand Rapids deck builders at Renaissance Exteriors are dedicated to helping homeowners improve their living spaces. If you are interested in building a wood deck in the near future, be sure to call us for your free in-home consultation at (616) 446-1248.