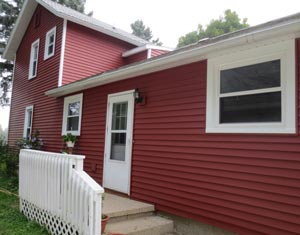 We have been helping homeowners just like you for over 20 years, which makes us qualified to help you transform your house siding ideas into reality.
Our siding contractors at Renaissance Exteriors work hard to make sure siding is installed properly and will last for years to come. We understand that replacing the siding on your home is a big decision.
Thankfully, our consultants are able to help you go through the different types, styles, and colors of exterior siding so you can make an informed decision for your home. We bring actual product samples to your consultation so you can get an idea of how the siding will look on your home. We offer many different types of exterior home siding, which include:
---
Siding Installation
Why worry about trying to DIY siding when you can hire professionals to do the job while you're at work or running errands? Our siding installers at Renaissance Exteriors work efficiently so you can enjoy your new siding....
---
Fiber Cement Siding
We offer James Hardie® fiber cement siding because it is resistant against wind, water, fire, UV rays, insects, and rot. We are always searching for the best exterior siding brands on the market so you can enjoy...
---
Vinyl Siding
We have been installing vinyl siding for over 20 years. As a result, we've also had the luxury of watching vinyl siding evolve to the variety of styles offered today. Our siding contractors at Renaissance Exteriors are able to install...
---
Cedar Siding
Cedar siding gives your home a classic rustic appeal that can't be matched by other siding materials. Our siding contractors are able to stain or paint cedar wood siding to your liking. This versatile material is also able to be cut into different styles of siding...
---
The Grand Rapids siding contractors at Renaissance Exteriors are dedicated to helping homeowners improve curb appeal through new siding installation. If you are interested in our exterior siding installation service, be sure to call our siding contractors in Grand Rapids to schedule your design consultation at (616) 446-1248.