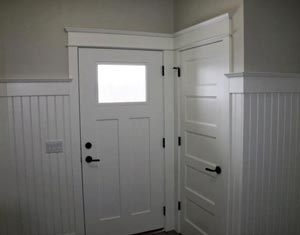 Want to quickly improve the curb appeal of your home? Why not invest in a new exterior door?
The front door to your home is one of the first things a potential homebuyer sees when they pull into your driveway. If you plan on staying in your home for years to come, you'll want to think about what kind of door would best fit your design preferences. Either way, our exterior door contractors at Renaissance Exteriors work hard to earn your business.
At Renaissance Exteriors, we offer a variety of exterior door materials to choose from and more styles than you could ever want. Once you pick the exterior door design, our contractors will get to work to make sure your exterior door is beautiful, yet secure. Did you know that exterior door installation can help dramatically improve the exterior of your home? Whether you want your door painted a vivid color or prefer the aesthetic of natural wood, we encourage you to browse through our inventory of exterior doors.
We offer the following types of exterior doors:
Exterior wood doors
Exterior steel doors
Exterior fiberglass doors
Exterior doors with windows
The Grand Rapids door installers at Renaissance Exteriors are dedicated to helping clients improve curb appeal, one door at a time. If you are interested in learning more about our exterior door installation service, be sure to call us to get your free in-home consultation at (616) 446-1248.