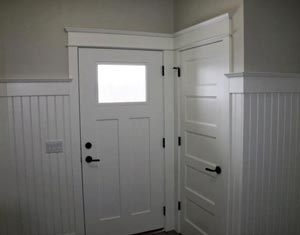 Want to quickly improve the curb appeal of your home? Why not invest in a new exterior door?
The front door to your home is one of the first things a potential homebuyer sees when they pull into your driveway. If you plan on staying in your home for years to come, you'll want to think about what kind of door would best fit your design preferences. Either way, our exterior door contractors at Renaissance Exteriors work hard to earn your business.
At Renaissance Exteriors, we offer a variety of exterior door materials to choose from and more styles than you could ever want. Once you pick the exterior door design, our contractors will get to work to make sure your exterior door is beautiful, yet secure. Did you know that exterior door installation can help dramatically improve the exterior of your home? Whether you want your door painted a vivid color or prefer the aesthetic of natural wood, we encourage you to browse through our inventory of exterior doors.
We offer the following types of exterior doors:
Exterior wood doors
Exterior steel doors
Exterior aluminum doors
Exterior fiberglass doors
Exterior doors with windows
Therma-Tru® Doors

Therma-Tru® offers innovative products and systems engineered to work together and perform for a lifetime. Therma-Tru products deliver uncompromising quality, inside and out, and provide inspired designs in virtually unlimited choices that complement architectural and homeowner styles.
offer quality you can trust! With more than 55 years in the business, they offer a proven track record of integrity and reliability. For over 20 years, more building professionals have used the Therma-Tru brand than any other entry door brand.
Therma-Tru offers a complete door system with components engineered to work together at the most critical points. You can also have total confidence in the lifetime limited warranty, which is the most comprehensive of its kind covering doors, glass, and components.
Therma-Tru offers thousands of door styles for virtually any home style at a range of price points. They offer a wide array of glass designs handcrafted to reflect home design trends and homeowner desires. Our remodeling consultants are equipped with the knowledge and interactive tools to help you visualize the perfect door for your home!
ActivWall Doors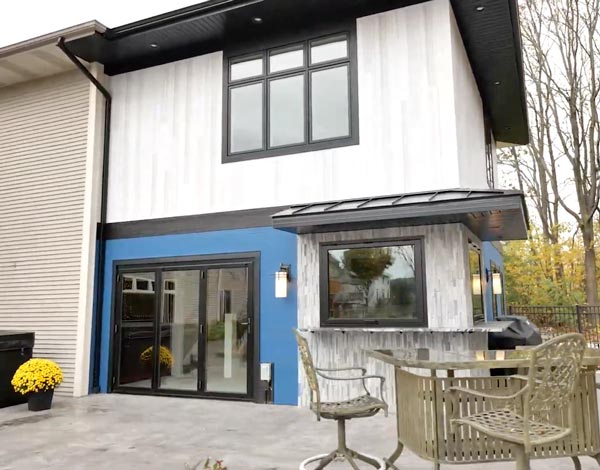 ActivWall can open up your space! With completely customized moving exterior doors, these innovative products fit any residential or commercial space. Products include horizontal folding walls, windows, and doors; sliding stacking doors; pivot doors; and custom fixed doors.
ActivWall is an American manufacturer located in Martinsville, Virginia. They have a history in high-quality manufacturing, and take great pride in their contribution to the local, national, and global economy. ActivWall is environmentally minded, and their innovative products can be engineered to meet any level of energy efficiency required.
are available in powder coated aluminum, wood, and wood-clad aluminum finishes. Perfect for both residential and commercial applications!
The Grand Rapids door installers at Renaissance Exteriors are dedicated to helping clients improve curb appeal, one door at a time. If you are interested in learning more about our exterior door installation service, be sure to call us to get your free in-home consultation at (616) 446-1248.