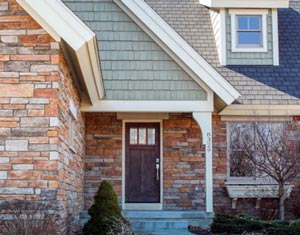 Whether you want to upgrade the façade of your home with stone veneer or install a concrete patio, you can count on our expertise.
Our Grand Rapids stone veneer contractors have been helping homeowners just like you improve their homes for over 20 years.
Architectural Stone Veneer
Stone veneer is a great way to update your home with a new fresh look, without a ton of work. Manufactured stone veneer will not only enhance the beauty of your home, but add value and maintenance-free performance. There is no need to coat, seal, or paint architectural stone veneer. Stone veneer is designed to withstand high winds, high temperatures, as well as freeze-thaw cycles.
Since stone veneer is manufactured from recycled materials, the impact on the environment is significantly less than if you used real stone. Manufactured stone veneer is cast from molds of real stone which makes it lighter than natural stone. This makes it easier and less expensive to install than natural stone. Natural stone installation, on the other hand, may require wall ties and footings, which increase installation difficulty and cost.
Concrete Outdoor Living Spaces
Why not make the most out of your backyard by installing a concrete outdoor living space? For example, concrete patios make a great space for outdoor get-togethers with friends and family. Best of all, concrete patios require little to no maintenance. Our Grand Rapids concrete patio contractors work efficiently so you can enjoy your new space as soon as possible. We offer the following architectural concrete services:
Concrete patios
Concrete tables and benches
Outdoor cook tops
Outdoor entertainment areas
Outdoor fireplaces, fire pits, and surrounds
Renaissance Exteriors works hard to make sure you are satisfied with the final results. If you are interested in learning how to improve the appearance of your home with stone veneers or concrete outdoor living spaces, be sure to call us for your free in-home consultation at (616) 446-1248.