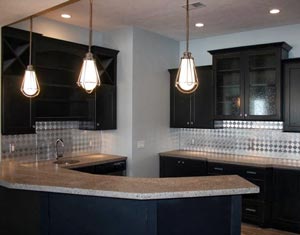 Is your kitchen in desperate need of an update? Want to bring more entertainment flair to it, or maybe you're looking for a more efficient cooking layout? You've come to the right place.
Our Grand Rapids kitchen remodelers are professional, efficient, and dedicated to doing the job right. We work with only the best manufacturers of building materials and appliances to ensure your kitchen is remodeled exactly the way you've always dreamed.
According to Remodeling Magazine, the return on investment for a kitchen remodel runs between 68% and 75%. However, adding value to your home isn't the only benefit of a kitchen remodel. If you plan on staying in your home for years to come, any kitchen upgrades will improve your quality of life. Kitchen renovations, like kitchen island installation, are worth the convenience they add to your life.
Whether you are interested in new kitchen countertops or want to replace kitchen cabinets that were never installed properly, you can count on our expertise. We have been helping homeowners just like you remodel kitchens for over 20 years.
The Grand Rapids kitchen remodelers at Renaissance Exteriors always strive to make sure you are satisfied with the final result. If you are interested in learning more about our kitchen remodeling services, be sure to give us a call for your free in-home consultation at (616) 446-1248.