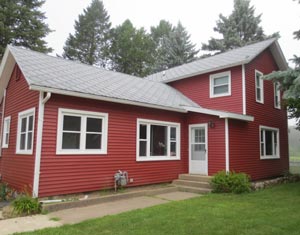 Nothing decreases the curb appeal of your home more than old faded siding. Whether you plan on selling your home in the near future or plan on staying put for years to come, your home can benefit from new durable siding. Our siding contractors at Renaissance Exteriors works hard to make sure your new siding is installed properly and lasts for years to come.
We offer the following types of exterior siding:
If you are unsure what types of siding are best for your home, we recommend talking with one of our representatives. We visit your home to go over the different types of materials that can be used for siding, as well as different styles. For example, fiber cement siding is extremely resistant against UV rays while vinyl siding won't rot like wood siding might when exposed to moisture.
It's important that you hire a professional for siding installation. A mistake during installation can result in costly repairs further down the road. For example, vinyl siding panels that aren't nailed properly will warp and buckle during temperature fluctuations.
The Grand Rapids siding contractors at Renaissance Exteriors always strive to improve the curb appeal of homes through quality siding installation services. If you are interested in our exterior siding installation services, be sure to schedule your free in-home consultation at (616) 446-1248.