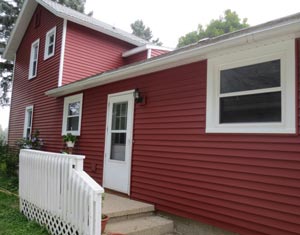 We have been installing vinyl siding for over 20 years. As a result, we've also had the luxury of watching vinyl siding evolve to the variety of styles offered today.
Our siding contractors at Renaissance Exteriors are able to install a range of different colors, thicknesses, and textures of vinyl siding so you can truly customize the exterior of your home. If you are looking for low-maintenance siding, look no further. Vinyl siding doesn't require painting or staining, which significantly reduces the amount of upkeep involved.
Many of the newer vinyl siding styles are also able to mimic the look of cedar, stone, and brick. Vinyl siding can be an affordable alternative to other types of siding materials. Many homeowners decide to install insulated vinyl siding to increase the energy efficiency of their homes. To prevent energy loss through the studs, rigid foam insulation is laminated or permanently attached to vinyl siding panels.
The Grand Rapids siding contractors at Renaissance Exteriors are dedicated to helping clients improve the exteriors of their homes through new vinyl siding installation. If you are interested in learning more about vinyl siding installation for your home, be sure to schedule your in-home consultation with us at (616) 446-1248.