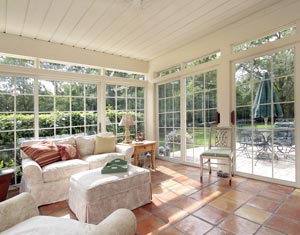 It's not uncommon for homeowners to ask us to convert their screened-in porches to multi-season porches.
To make the transition, you'll need to have a HVAC unit, insulation, and energy-efficient windows installed. Our Grand Rapids home remodelers at Renaissance Exteriors are able to build four season room additions so you can enjoy a cup of coffee out on the porch, even in the middle of winter.
Four season rooms can be used year-round. This means that you can sit on your four season porch and enjoy the view even in the middle of winter. A three season porch may be used through the spring, summer, and fall months. However, they aren't constructed with the same energy-efficient materials to be comfortable in the winter.
A multi-season porch is an enclosed with glass walls and sliders so that they're an extension of your home. A four season porch is also well insulated in order to keep out the winter chill and summer heat. Our consultants are able to help you turn your four season room ideas into reality. Our porch builders at Renaissance Exteriors be able to come up with a design that complements the inside of your home and won't seem like an afterthought.
The Grand Rapids porch installation contractors at Renaissance Exteriors work hard to make sure you are satisfied with your new year-round porch. For more information on our multi-season porch building services, be sure to call us for your free in-home consultation at (616) 446-1248.