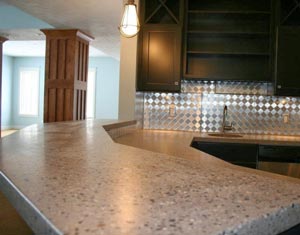 We only offer the best in solid countertop materials such as granite, quartz, and acrylic to accentuate your kitchen or bath.
With beautiful fabrication and expert installation, our countertops make your next kitchen or bathroom remodel as smooth as polished stone. Our Grand Rapids countertop contractors work hard to make sure you are satisfied with your new countertops.
Kitchen Countertops
Our design consultants can help you choose from the many different types of kitchen countertops available. The type of kitchen countertops you choose will depend on how you use your kitchen and your design preferences. For example, sealed granite countertops are perfect for people who use their kitchens a lot because they are resistant to scratches, staining, and heat. Granite also comes in many different colors to match the interior design of your kitchen.
Bathroom Countertops
A new bathroom countertop can drastically improve the appearance of your bathroom. Our design consultants will be able to help you find a bathroom countertop material that resists water stains and heat from hair tools. For example, quartz countertops are resistant to cracks and chips.
The Grand Rapids countertop installers at Renaissance Exteriors always strive to work efficiently and produce quality results. If you are interested in learning more about our countertop installation services, be sure to call us to schedule your in-home consultation at (616) 446-1248.