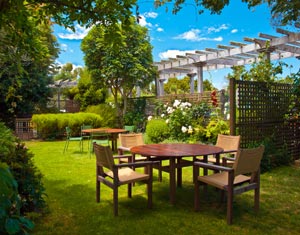 A trellis fence or screen is the perfect way to turn your backyard into a private escape.
Whether wood or metal, a garden trellis creates a serene backdrop for outdoor living spaces and can add a ton of character to your home. Our Grand Rapids trellis builders are able to create trellises that are durable, yet attractive.
Our consultants will help you decide what materials to use so the trellis can be designed the way you envisioned it. Our trellis systems are able to support a variety of plants, from roses to morning glories. Whether you want a trellis privacy fence or a metal garden trellis, we are able to work with you to transform your ideas into reality.
Trellises are useful if you are interested in making your backyard more private from the neighbors. Nothing makes your yard feel more secluded than a living wall made of flowers and vines. If you have a large backyard, trellis archways or fences can also be used to designate different areas.
The Grand Rapids trellis building contractors at Renaissance Exteriors are dedicated to helping homeowners create outdoor living spaces for relaxation and entertainment. For more information on our trellis design and build services, be sure to call us for your free in-home consultation at (616) 446-1248.