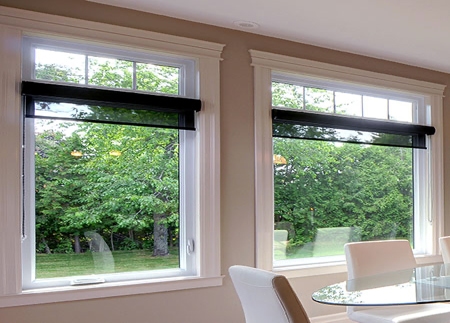 Casement Windows:
Vinyl casement windows offer contemporary styling and convenience in one package. They open and close easily with the simple turn of a handle and offer clean sightlines with an unobstructed view. Installed on their own or paired with other windows, casement windows complement any room.
Single Hung Window:
Their single-hung vinyl windows offer the traditional look of a hung window while providing improved security, lower maintenance and increased energy efficiency. The operating sash also tilts in for easy cleaning.
Double Hung Window:
The ultimate combination of traditional styling and modern technology, double-hung vinyl windows feature tilt-in sashes for easy cleaning. Open them from the bottom like a single-hung window, or slide the top sash down for improved airflow and increased security.
Picture Window:
The picture window's simplicity makes it the most versatile of their line. It lets in light, but not the elements and offers superior energy efficiency plus an unobstructed view.
Sliding Patio Door:
Boasting superior thermal performance and high condensation resistance through modular design, ComfortStar™ sliding patio doors improve the home's comfort levels through unrivalled energy performance and innovative construction.
Steel Door:
Providing a portfolio of products ensuring the right HD Steel door for your project. The polyurethane foam core offers superior thermal performance and added door strength. Beautiful, strong, secure.
Modern Door:
With clear, textured and decorative glass options, Modern doors are understated elegant entrances designed to enhance today's contemporary home with simple, clean lines.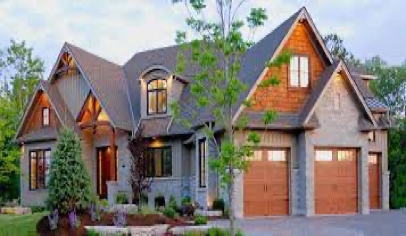 Our Greener Side
Our Energy Conservation:
Tru Tech is committed to protecting the environment through energy-efficient products and practices by reducing greenhouse gas emissions and other pollutants caused by the inefficient use of energy. See Tru Techs ENERGY STAR rating at www.energystar.gov
Our Sustainable Forest Responsibility:
With less than ten percent of the worlds forests being preserved, conserving our natural resources is imperative. In an effort to do so Tru Tech strives to purchase wood products that originate in sustainably managed forests.
Our Recycled Content:
Recycling is key in preserving our environment. Where possible Tru Tech processes used materials to prevent waste, reduce the consumption of raw materials, and reduce energy usage. In continuous efforts to discover methods for being waste conscious, some of these recycled materials are utilized throughout our various product lines.
Our Personal Responsibility:
At Tru Tech it is our duty to ensure that employees in all areas recycle their waste products. We recycle products such as wood, cut-outs, and scrap doors. In further eco-efforts we donate excess materials to charitable organizations such as Habitat for Humanity.

Windows:
Lifetime Warranty on White Window and Patio Door Frames And Sashes
20-Year Warranty on Interior and Exterior Coloured Laminates
Lifetime Warranty on Hardware
Limited Lifetime Warranty on Super Spacer Sealed Units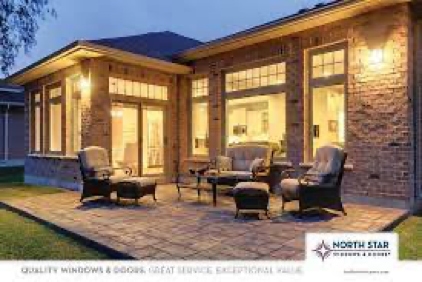 Doors:
Non-Prorated Transferable Warranty
Belmont/Harbour Craft Fiberglass Door Limited Warranty
Stained fiberglass Door Panel 5 Year Warranty
Steel Mark Factory White Door Panel 20 Year Warranty
Painted Door Panel 10 Year Warranty
Decorative Door Lites 20 Year Warranty
Vinyl Cladding Lifetime Warranty
To request a design consultation for North Star Windows & Doors, please call (616) 446-1248. You may also fill out our online contact form and someone from our team will reach out to you soon.