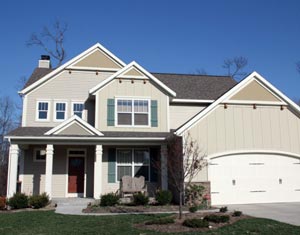 Cedar siding gives your home a classic rustic appeal that can't be matched by other siding materials. Our siding contractors are able to stain or paint cedar wood siding to your liking.
This versatile material is also able to be cut into different styles of siding, such as cedar bevel siding or cedar siding shingles.
Many homeowners also appreciate the look of weathered white cedar siding. Over time, white cedar siding takes on a silvery sheen which cannot be replicated with other types of siding materials.
Compared to other softwoods used for building materials, cedar is one of the most naturally durable and decay resistant. When installed and finished properly, red cedar siding can last for decades. To help you choose which type of shingles is right for you, we are able to provide estimates for cedar siding pricing. We pride ourselves on being able to help clients make informed decisions for their homes.
The Grand Rapids siding contractors at Renaissance Exteriors are dedicated to helping homeowners improve the appearance of their homes through new exterior siding installation. If you are interested in learning more about cedar siding for your home, give us a call for your free in-home consultation at (616) 446-1248.