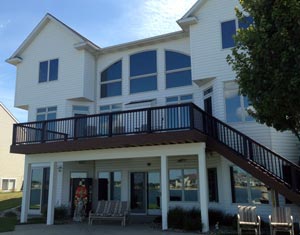 Underdecking systems allow homeowners to use the space underneath their balconies. Like the name suggests, a dry below deck system is designed to keep patios beneath decks dry, regardless of the weather.
You can count on our deck installers at Renaissance Exteriors to work efficiently so you can enjoy your under deck as soon as possible. As always, the installation is backed 100% by our professionals.
We offer only the strongest underdeck ceiling system on the market that will be sure to look beautiful for years to come. Our home remodelers at Renaissance Exteriors are more than happy to help you come up with underdeck roof ideas to match the exterior of your home.
Most of the underdeck ceilings we offer can support lights, fans, and other hanging accessories that other systems can't. The underdeck drainage systems we offer give you the opportunity to design an outdoor room that feels like a natural extension of your home.
The Grand Rapids deck contractors are dedicated to helping homeowners get the most out of their backyards. If you are interested in creating outdoor living spaces to entertain or relax with family, give us a call for your free in-home consultation at (616) 446-1248.