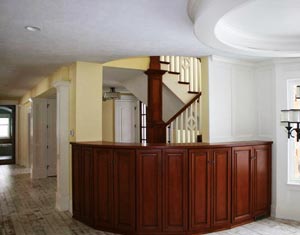 If the cabinets in your home were poorly constructed and are starting to fall apart, you may want to consider new cabinet installation.
We offer installation services for both kitchen cabinets and bathroom cabinets. Our Grand Rapids cabinet installers work efficiently and produce quality results.
Kitchen Cabinets
Cabinets take up a lot of space in your kitchen, which is why it's important to hire a contractor who does quality work. We have more than 20 years of experience serving West Michigan clients and offer cabinet design and installation services.
A recent trend in custom kitchen cabinetry is to create drawers for storing specific items. For example, many homeowners appreciate having a special kitchen drawer for storing silverware. We also offer lazy Susans, wine racks, pull-out trash bins, and more. We make it our mission to help you customize your kitchen to your liking.
Bathroom Cabinets
Bathroom cabinets must also be given consideration. After bathroom cabinet installation, you'll be able to clear clutter from countertops. We've never met a homeowner yet that said they didn't need more bathroom storage space.
The Grand Rapids cabinet builders at Renaissance Exteriors work hard to make sure you are completely satisfied with your new custom cabinets. If you are interested in learning more about our cabinet design and build services, be sure to give us a call for your free in-home consultation at (616) 446-1248.