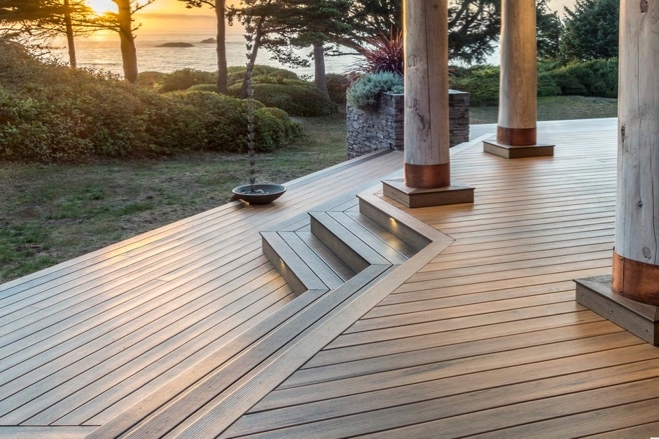 We're certified TrexPro® Platinum Deck Builders, which means we have advanced product and installation experience with Trex composite decking. We lead the market in installing Trex decking in West Michigan. We can help you choose the right Trex decking that fits your needs and budget. With a TrexPro® builder, you are not only covered with the 25-year Limited Residential Warranty, but the exclusive TrexPro® 2-year residential labor warranty in the event that your Trex product does not meet the warranty requirements.
HIGH PERFORMANCE
Composite deck boards won't rot, warp, or splinter. Backed by 25-Year Limited Residential and Fade & Stain warranties.
SUSTAINABLY MANUFACTURED
Made in the USA using 95% post-consumer plastic film and reclaimed sawdust.
EASY INSTALLATION
Use grooved-edge boards with our Trex Hideaway® Hidden Fastening System for a smooth, premium finish.
LONG-LASTING BEAUTY
Versatile colors feature a refined wood grain that adds depth and luxury to any backyard.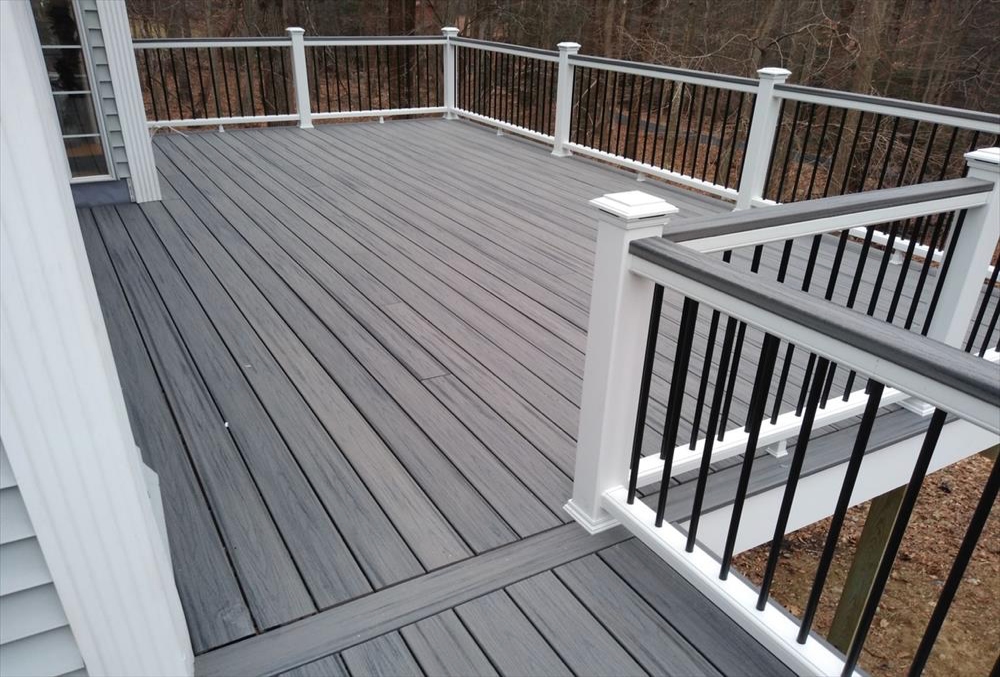 Decking & Railing:
Designed with lasting beauty, incredible durability and easy maintenance, there's no compromising with high-performance composite decking. That's why high-performance composite is the only type of decking we make. We've paired Trex against other types of decking for a head-to-head comparison that proves Trex outdecks, outlasts and outperforms the rest.
Traditional wood decks can be beautiful, but they don't stay that way for very long, requiring extensive upkeep to maintain their looks and safe qualities. Trex® composite decking, on the other hand, was designed to mimic the beauty of wood decking but without all of the maintenance hassles. Our high-performance, eco-friendly composite decking withstands years of sun, sleet and snow, keeping its rich color and durability for decades. When comparing composite decking vs. wood, there's really no competition. Whereas Trex is low-maintenance and durable, wood decks: rot, split, swell, twist and fade, crack from insect infestation, require annual painting, staining or sealing, splinter easily, and contribute to deforestation.
Different Lines & Lineages:
Trex Transcend:
Elevated aesthetics paired with the highest level of performance. Available in Earth Tones and Tropicals. Transcend decking's deep wood-grain and luxury colors create a premium, ageless look. The material maintains its vibrant color and luxurious finish—come scorching sun or red-wine spill—thanks to its unyielding shell protection and comes in 8 different colors.
Trex Select:
The perfect pairing of price and minimal maintenance. Available in Earth Tones colors. Trex Select stands up to both weather and weekend mishaps alike, thanks to its high-performance shell. It resists stains and mold better than traditional composites. It comes in five nature-inspired colors that pair smartly with any home, and offers a soft, splinter-free finish that's comfortable underfoot.
Trex Enhance:
Pair the beauty of wood with the ease of composite, at the right price and with minimal maintenance. Available in Natural and Basic colors. Enhance decking boards are scalloped, making them as lightweight as lumber—without the extra work. This long-lasting decking requires little upkeep and comes in seven colors. It offers an authentic wood-grain appearance with the durability of composite and the affordability of wood.
**All lines use 95% post-consumer plastic film and reclaimed wood and is backed by their 25-year Limited Residential and Fade & Stain warranties**
Trex Signature Railing:
Low-maintenance railings from the Trex Signature add a touch of modern sophistication to any view. Through the use of aluminum, mesh, rod, or glass panels, you can add a contemporary edge to any outdoor space. Got a great view? Consider curving your rails to mimic the sweeps of the garden below. And entertainers, take note: wide, beverage-ready cocktail railing may just be the ideal choice for you.Imagine top-tier durability and the refined beauty of negative space. Our four contemporary Trex Signature options feature powder-coated aluminum rails that resist fading and corrosion, backed by our 25-year Limited Warranty.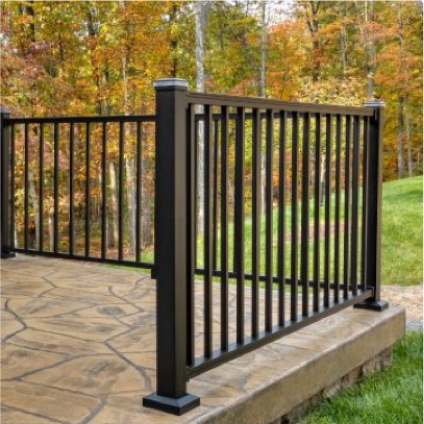 To request a free estimate for residential Trex Decking, please call (616) 446-1248. You may also fill out our online contact form and someone from our team will reach out to you soon.