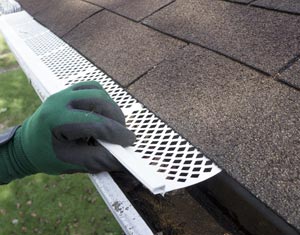 Gutters are responsible for directing the rain that falls on your roof away from your home.
Without a properly-installed gutters system, rainwater and snowmelt can damage siding, as well as splash back grease and dirt onto your foundation. Thankfully, our gutter contractors at Renaissance Exteriors are able to install gutter systems so you never have to worry about these issues.
If you notice signs of erosion near your home's foundation, this is most likely due to the gutters not working properly. Wood rot is also common when water is allowed to drip down the walls of your house.
Our gutter installation contractors regularly see damage caused by ineffective or nonexistent gutter systems and would love to help you choose a gutters system that will protect your home season after season.
There are different types of gutter systems, such as leaf guard gutters that prevent large outdoor debris from clogging your gutters. Protect your home from water damage by making sure you invest in gutters installation.
The Grand Rapids gutter installers at Renaissance Exteriors work hard to make sure gutters and downspouts work properly to direct water away from your home. If you are interested in learning more about our gutter installation services, be sure to call us for your in-home consultation at (616) 446-1248.