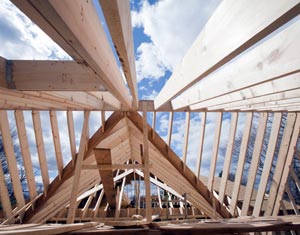 The cost of roof leak repair is significantly less than what you'd pay for residential roof replacement. Given proper maintenance, most fiberglass or asphalt shingle roofs last about 20 years.
To help your roof last as long as possible, we recommend scheduling roof repairs as soon as you notice a damaged or loose roofing shingle. Our Grand Rapids roof leak repair contractors are able to give you a roofing repair quote.
Our professional estimator will conduct a roof inspection before talking with you about problem areas and repair options. We want to help you understand what your choices are so you can make the best decision for your home's roof. Our experienced team works efficiently, leaving you with a safe roof and peace of mind.
Our roof leak repair contractors are able to repair your roof before the damage becomes more expensive, or even irreversible. No one wants to pay to prematurely replace their roof. We recommend scheduling roof inspections so we can repair damage to your roof before it becomes a larger issue. For example, you'll want to schedule an inspection after high winds or other adverse weather to see if storm damage roof repair is necessary.
The Grand Rapids roof repair contractors at Renaissance Exteriors always strive to help homeowners prolong the lives of their roofs. If you are interested in learning more about our roof leak detection and repair services, give us a call at (616) 446-1248.