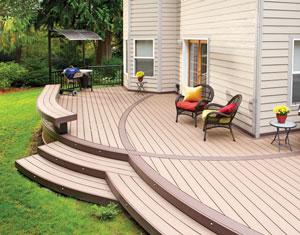 Exploring backyard deck is an investment in your home. This is why our deck contractors in Grand Rapids, MI want to give you the facts you need to make an informed decision.
? We understand that a
Whether you want a pool deck or a deck to wrap around the exterior of your home, you can trust us for excellent results. Continue reading to check out our 13 backyard deck ideas to use this summer.
Great Decking Ideas
1.) Build for the Best View
Build your deck where you'll have the best view and remember that not all decks have to be attached to the house. If you're lucky enough to have a gorgeous view, consider building a deck that's high off the ground so you can make the most of it. We offer a variety of different styles and colors of deck railings to keep you and your loved ones safe.
2.) Create Different "Zones"
Think of how you want to use your backyard deck. Do you plan on hosting summer parties? Would you rather build your backyard deck as an oasis to escape the stress of city life? We recommend you come up with distinct zones for your deck. For example, you may want to designate zones for grilling, dining, and relaxing by the pool.
3.) Combine a Deck and Patio
Don't know whether you should install a deck or a patio? How about both? A deck and patio can be used together to expand your living space and create different zones. For example, a patio could be a great place for your potted plants to hang out while you sun yourself on your raised deck.
4.) Build More Than One Level
One of the easiest ways to separate different "zones" in your backyard deck is to build them at different levels. To make your final design look cohesive, make sure the different zones have some design elements in common. We also recommend designing a stairway that gives you easy access to all levels.
5.) Add a Second Story Deck
Ask us if you'll be able to build a deck off the second story of your house. A second story deck not only gives you privacy from the neighbors, but a great view. We recommend using composite decking because it's able to resist insects, warping, and rotting. Since composite decking boards are made from plastic products and wood fibers, they're also able to resist severe weather, scratches, and stains.
6.) Build a Deck on a Sloped Yard
Think you can't build a deck on a sloped yard? Think again. We're able to build out decks so they overlook the surrounding landscape. Just because you ran out of level ground, doesn't mean you can only build a small deck. Ask our contractors if it's possible to build your deck out so it's supported by strong beams and gives you the best view of your backyard.
7.) Build a Wraparound Deck
A wraparound deck is built along two sides of your home, providing sunlight and easy access to the outdoors. Wraparound decks are especially perfect if you love to entertain. During your next party, your deck could become a place for your guests to overflow and socialize.
One of the main advantages of a wraparound deck is that you can have multiple doors and sliders open up to your outdoor living space. That way, your backyard deck feels more like a natural extension of your home.
8.) Add a Pool or Hot Tub Deck
Nothing is more luxurious than being able to soak in a hot tub at the end of a long day. If you're concerned about your deck looking cluttered, consider a design where the hot tub is sunken into the deck. Unlike wood, composite decking is perfect for around pools and hot tubs because it doesn't splinter. Instead composite decking provides a clean smooth surface underfoot.
9.) Bring Your Beach Vacation Home
Who says you have to leave the lakeshore behind when your vacation ends? There are plenty of ways you can dress up your backyard deck so it reminds you of your favorite beach town. For example, installing white deck railing not only improves safety, but helps your outdoor living space feel more light and airy. Add a few potted plants so you feel surrounded by nature.
10.) Spend Evenings Outside
Trade "Netflix and chill" with "watch the sunset and chill." Our Grand Rapids deck contractors have plenty of experience installing composite decking for homeowners just like you. Arrange some comfortable outdoor furniture on your new deck, put up your feet, and enjoy your backyard. Some outdoor lighting can also help you enjoy your deck past dusk and into the evening hours.
11.) Blur the Line between Indoor and Outdoor
A deck can help your home feel more spacious, especially if you're able to leave the sliders open during the summer. The best outdoor decks blur the boundaries between indoors and outdoors. It may be for this reason that many of our customers are interested in . Many decking roof ideas give you the experience of being outside with at least partial protection from the elements.
12.) Plan for Heavy Foot Traffic
Your deck will most likely become the most popular "room" in your house, especially when the weather is pleasant. Before building your deck, try to imagine how people will move in the newly constructed space. Is there enough room for people to get by each other on the stairs? Will your kids have enough space to run around without bumping into things? If you're unsure how much space you need, try looking at the site from a distance and plan for a little more room than what you think you'll need.
13.) Design Your Deck for Entertaining
Let's be honest. The number one reason why homeowners build decks is to improve their quality of life and entertain guests. If your major reason for building a deck is to entertain, consider adding an outdoor kitchen or even installing speakers to create the perfect summer party venue.
Our deck contractors in Grand Rapids, MI are ready to help you through the deck building process. To request a design consultation for a backyard deck, call Renaissance Exteriors & Remodeling at (616) 446-1248.