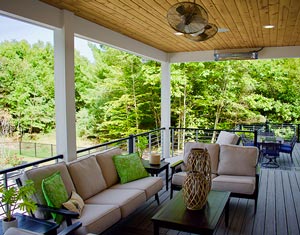 There are many benefits of composite decking. It's low maintenance, long-lasting, environmentally conscious, and replicates the look of natural wood. What more could you want?!
The sooner you
, the sooner you can start enjoying your backyard.
Here's what else you need to know about composite decking.
Low Maintenance
While composite decking has a high upfront cost (compared to wood), you'll save money in the long run on maintenance.
To maintain composite wood decking, simply scrub the surface with soap and water at least twice a year.
How often you'll need to clean composite decking boards will depend on the amount of foot traffic your deck sees, and the amount of natural debris it experiences.
If you're in a wooded area where pollen, leaves, and tree branches accumulate rapidly, or if your backyard deck experiences high foot traffic, you'll want to clean your outdoor decking at least once a week. We should note that this is true for both wood decks and composite decks.
Pollen and leaves can leave behind unwanted residues that stain over time. Although composite will hold up a lot longer than traditional wood, you'll still want to clean it to preserve it.
Replicates the Look of Natural Wood
Do you love the look of natural wood, but hate the areas where it's splintering or chipping? You're not alone.
Composite wood is perfect for deck designs because they come in a range of different colors from gray to deep brown. These natural hues make it easy for you to match the color of your new deck with the exterior of your home.
Also, you won't have to worry about things like splinters as much with composite decking. The deck won't fray like a wooden deck will, saving you from a nasty toe splinter when you decide to not wear your flip-flops.
Many of our customers also
because it's more weather and insect resistant. These are just some of the many benefits of composite decking.
Long-Lasting and Durable
Composite decking is a good investment for your home because it's long lasting and resistant to moisture, insects, and rot. If given proper maintenance, you can expect composite decking to last up to 30 years (or longer).
Did you know that composite wood doesn't stain or scratch?
Yep, that's right. You don't have to worry about your deck starting to look worn after just a few years.
If you plan on staying in your home for years to come, you'll want to seriously consider composite decking.
Unlike wood decking, you won't have to spend the better part of your weekends maintaining your deck or designate time to re-stain it. Instead, you can spend more time enjoying your backyard with family and friends.
Environmentally Conscious
Composite decking is made out of plastic and recycled wood, which helps save trees and the environment.
The recycled wood in composite decking comes from wood chips, wood fiber pieces, and sawdust. Other composite deck companies may recycle bottles, bags, and other types of plastic to manufacture their products.
In other words, composite decking is more environmentally friendly than a lot of other building materials. As a deck building contractor, we'd be more than happy to answer any questions you may have about the products we use.
Learn More About the Benefits of Composite Decking
Deck construction is an investment in your home, that's why it's important to hire an experienced contractor.
Our Grand Rapids deck builders work hard to earn your business. To request a design consultation or learn more about the benefits of composite decking, call Renaissance Exteriors & Remodeling at (616) 446-1248.
This blog post has been updated.