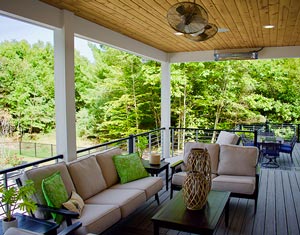 The soon you hire a deck builder, the sooner you can start enjoying your backyard. Are you unsure what decking material is right for your home? If so, you're not alone. We get a lot of questions from customers about the pros and cons of composite decking. The best composite decking is low maintenance while imitating the aesthetic of natural wood.
Continue reading to learn why more and more homeowners are choosing deck contractors.
for their homes. We understand that a deck is an investment in your home, which is why it's important to ask questions throughout the deck building process. For more information, contact your local
Low Maintenance
While composite decking has a high upfront cost (compared to wood), you'll save money in the long run on maintenance. To maintain composite wood decking, simply scrub the surface with soap and water at least twice a year. How often you'll need to clean will depend on the amount of foot traffic. If your backyard deck experiences high foot traffic, you'll want to clean outdoor decking once a week.
Imitates Look of Natural Wood
Do you love the look of natural wood, but don't want the maintenance? You're not alone. Many of our customers choose composite over wood decking because it's more weather- and insect- resistant. Composite wood is perfect for deck designs because they come in a range of different colors—from gray to deep brown. These natural hues make it easy for you to match the color of your new deck with the exterior of your home.
Long Lasting
Composite decking is long lasting because of its resistance to moisture, insects, and rot. If given proper maintenance, you can expect composite decking to last up to 30 years (or longer). Since composite wood doesn't stain or scratch, you don't have to worry about your deck starting to look worn after a few years.
If you plan on staying in your home for years to come, you'll want to seriously consider composite decking. Unlike wood decking, you won't have to spend the better part of your weekends maintaining your deck. Instead, you can spend more time enjoying your backyard with family and friends.
Environmentally Conscious
Composite decking is made out of plastic and recycled wood, which helps save trees. The recycled wood in composite decking comes from wood chips, wood fiber pieces, and even sawdust. If you are concerned about your home's environmental impact, ask your local decking contractor about composite wood.
Quality Brands
Deck construction is an investment in your home. That's why it's important to hire contractors experienced in deck installation. For our clients, we trust brands like Azek Building Products and CertainTeed. Both of these brands have developed a reputation for creating decking boards made to last.
Our Grand Rapids deck builders work hard so you can enjoy your new composite decking as soon as possible. We pride ourselves on working efficiently while producing quality results. To request your free quote, call Renaissance Exteriors & Remodeling at (616) 446-1248.