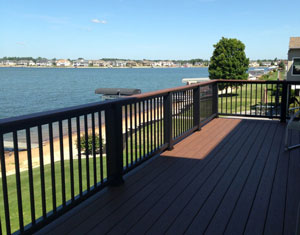 Will a new deck add value to your home? The answer depends on the level of craftsmanship and how you define "value." Most of the homeowners we work with want backyard decks to improve their quality of life. You can't measure this type of value in dollars and cents. But
consistent with your home's size and style can also add monetary value.
Here's why adding a deck is often a good investment.
Customize Your Outdoor Living Space
Do you like throwing outdoor parties? If so, you'll want to think seriously about outdoor decking. A patio deck can be the perfect place for your guests to overflow from the house.
Decks are also perfect for setting out some chairs to relax in the sun. But you'll want to act fast if you want to hire our deck builders. As soon as the weather warms up, there'll be plenty of other homeowners with the same deck building plans.
Keep in mind that there are plenty of composite decking because they copy the look of natural wood without the maintenance.
for you to choose from. For example, many homeowners prefer
Attract Home Buyers
A beautiful backyard deck can help your house stand out from the competition. Do you live in a neighborhood where large backyard decks are the norm? If so, you'll want to consider getting an upper or ground level deck. A deck attracts prospective buyers and helps them imagine what it would be like to live in your home.
If you plan on staying in your home for years to come, a back deck can still add value to your home. Why not invest your hard-earned money in a deck you'll be able to enjoy with friends and family?
Our deck builders can help you choose from a wide variety of decking boards to complement your home's exterior. For example, composite wood decking can be made in a variety of shades while needing less maintenance than wood.
Increase Your Home's Value
If two similar homes are being sold in the same price bracket, the house with the deck will be preferred by homebuyers. This is because prospective homebuyers value having outdoor living space.
A deck that appears to have been built the same time as your house will receive the highest return on investment. In other words, your backyard deck should be in proportion with your house and complement its architectural style if you want to add value to your home. A deck that's too big for its respective house can throw off the visual balance of your property.
Don't Forget Your Floor Plan
The floor plan of your home is more essential than you may think while planning your deck. For example, most homeowners prefer that the deck go off of the dining room or kitchen. That way, it's easier to carry food and dishes out to the backyard when you want to eat outside.
Also, keep in mind that decks on the first floor tend to impress buyers more than small decks coming off of the second floor. This is because ground floor decks tend to be more accessible and practical for everyday use.
Request a Design Consultation With Us
Our deck builders in Grand Rapids, MI, would be more than happy to help you create your ideal outdoor living space. If you're looking for some inspiration, be sure to check out our blog post that includes 13 backyard deck ideas you'll definitely want to steal. To request a design consultation for outdoor decking, call Renaissance Exteriors & Remodeling at (616) 446-1248.
This blog post has been updated.