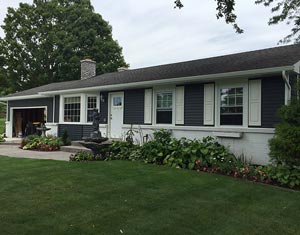 Even the best vinyl siding won't last forever. Vinyl siding that is warped or buckled should be replaced as soon as possible to prevent water damage to your home. Fortunately, our siding contractors will be able to inspect the exterior of your home to determine whether you need new siding.
1. Melted Vinyl Siding
Grilling too close to your house can melt vinyl siding. According to the 10 feet away from your home. Otherwise, you could melt siding or even cause a fire. Vinyl house siding will start to melt around 165 degrees.
, you should grill at least
If you see warped vinyl siding, call our contractors as soon as possible. We'll be able to determine whether the damage is bad enough to justify replacing vinyl siding. We'll also be able to walk you through your home siding options, which include vinyl, fiber cement, and cedar.
While it's rare, vinyl siding can also melt if your neighbors recently installed energy efficient windows. If a high efficiency window starts to bow inwards, it can act like a magnifying glass to melt vinyl siding.
2. Insect Damage
Insect damage not only reduces the value of your home, but costs you money in the long run. If you noticed small holes in your vinyl siding, this could be a sign that bugs have burrowed their way inside. If ignored, your vinyl siding could become home to earwigs, ants, wasps, bees, termites, and other creepy crawlies.
To check for termites, gently push a screwdriver against the siding. If the siding is soft, you may have an insect problem. Call an exterminator and start shopping for new exterior siding. You can still get vinyl siding that looks like wood for a natural aesthetic that won't attract termites.
3.Mold and Mildew
Does your vinyl siding have gray, black, or white spots? If so, you'll want to call our siding contractors as soon as possible. Once moisture infiltrates vinyl siding, it creates the perfect conditions for mold and mildew.
While power washing can remove mold and mildew, it can also force water underneath vinyl siding to soak wall cavities, insulation, and more. This contributes to an endless cycle of mold and mildew growing underneath the siding of your house. The best solution is to replace vinyl siding before mold and mildew gets worse.
4. Structural Damage
Old houses settle over time, which can make siding buckle or bulge. If you suspect structural damage to your home, your first step should be to call a structural engineer. Otherwise, we recommend new home siding.
5. Poor Siding Installation
It's worth taking the time to 10 and 20 years. However, you may notice issues with your vinyl siding right away if it wasn't installed properly.
before hiring. After all, vinyl siding is an investment in your home that's meant to last for years. If installed correctly and given proper care, vinyl siding should last between
Inexperienced contractors can damage siding if they nail it too tightly or at an angle. An easy way to check your siding is to see if you can slide it a half inch or so horizontally. If you're unable to do this, it means the contractor nailed the siding to the fasteners too tightly.
Vinyl house siding expands and contracts slightly with fluctuating temperatures. However, your siding will start to buckle if it's nailed down too tightly. You may also notice nails pop to create bulges in exterior siding.
Request a Design Consultation With Us
Our Grand Rapids siding contractors work hard to earn your business by offering a range of home exterior and remodeling services. To request a design consultation with Renaissance Exteriors & Remodeling, call (616) 446-1248.
This blog post has been updated.