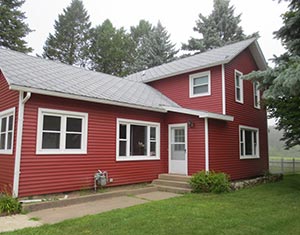 Vinyl siding can last between 20 and 40 years, depending on the thickness of the boards. But improper installation can reduce this lifespan and cost you money in the long run. Likewise, grilling too close to your home can melt your vinyl siding and destroy your home's curb appeal.
To help you save your money, it's important that you educate yourself on how to keep your vinyl siding looking nice.
Here are the main causes behind vinyl siding warping and buckling.
Grilling Too Close To Your House
Grilling is a summer tradition. But did you know that your summer tradition could be causing the siding on your home to warp?
The heat from the grill melts the siding, especially if you're grilling on a regular basis. This means that when it's time to store your grill in your garage, you could discover vinyl siding damage.
The good news is that you can easily prevent this type of damage by grilling at least 10 feet away from your house.
Neighboring High Efficiency Windows
While rare, it's possible for UV rays to reflect off of high efficiency windows. This indirect heat energy from the sun may melt vinyl siding over time.
But before you confront your neighbor, please understand that this situation is rare. When it does occur, it's usually because the houses were built close together and create a shelter from the wind.
If high efficiency windows are to blame, we may notice that the
matches the heat pattern reflected from the opposing window.
Water Damage
It's important for homeowners to keep tabs on their
throughout the year. Gray, white, or black spots on your siding are a sign of mold and mildew and you should take care of it right away.
Foundation Settling in Old Home
It's unusual for a house to move a little bit, but not impossible. Sometimes old buildings can settle over the years, shifting its structure. When this happens, the siding could buckle or bulge.
If you live in an older home, reach out to a structural engineer if you suspect structural damage.
Insect Infestation
While rare, it's possible that insects could invade your vinyl siding. One of the most common culprits is termites.
To check for termite damage, take a screwdriver and gently push the tip against your vinyl siding. If the screwdriver tip easily pushes into the siding material, you may have an insect problem.
If you notice insect-damaged siding, be sure to call a pest control specialist. Once the insect situation is under control, call our vinyl siding installers to replace any damaged sections.
Improper Installation
If the vinyl siding is nailed too tightly or at an angle, it'll start to show signs of damage.
You should be able to slide the siding panels horizontally about half an inch or more. If you are unable to do so, this is a sign that the contractor nailed the siding to the fasteners too tightly.
When your vinyl siding isn't able to move, it can cause the material to warp or even buckle. The nails may also pop to create bulges in your exterior vinyl siding. If you suspect that your siding was poorly installed, call us to resolve the issue.
Likewise, call Renaissance Exteriors & Remodeling when it's time to replace your vinyl siding.
Conclusion
To get a proper diagnosis, you'll need to hire a vinyl siding contractor. Our crew will be able to inspect your home and determine the issue. That way, when they repair the damage, it won't reappear later due to the same circumstances.
There could be many reasons for warped, buckled siding.
These reasons include:
Grilling too close to your home
Neighboring high efficiency windows
Water damage
Foundation settling in old home
Insect infestation
Improper installation
Request a Design Consultation With Us
Our vinyl siding contractors in Grand Rapids, MI, are ready to help improve the exterior of your home. To request a design consultation, call Renaissance Exteriors & Remodeling at (616) 446-1248. You may also fill out our online contact form and someone from our team will reach out to you soon.
This blog post has been updated.