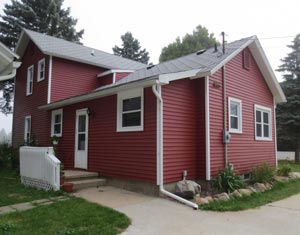 According to Angie's List, new exterior siding can give you up to 80% return on investment. If you plan on selling your house in the near future, you may want to consider siding installation.
Not only does new house siding add value to your home, but it also helps improve curb appeal. Keep reading to learn how new vinyl siding can get your home noticed by prospective buyers. For more information, be sure to call a remodeling company that offers .
Update Color Scheme
Exterior siding comes in a range of colors, which can be a good or bad thing. If the color of your home's exterior siding dropped out of popularity many moons ago, you'll want to consider replacing vinyl siding. To get inspiration for your home, we recommend taking a drive around your neighborhood.
Since the other houses on your block were likely built around the same time as yours, they are also bound to share architectural styles. Looking at your neighbors' homes can help you get a good idea of what color combinations complement your home's unique style.
Show Off Vibrant Color
Over time, the sun's rays can bleach the color from your home siding. Faded siding affects more than just the curb appeal of your home. UV rays can also weaken vinyl siding enough to cause cracking and other structural issues.
If your siding is starting to fade, you'll want to contact a siding company near you. They'll be able to walk you through your siding options so you can make the best decision for your home. Many of the homeowners we work with appreciate how vinyl siding installation adds value to their homes, especially if they are trying to sell.
Get Rid of Mold and Mildew
Mold and mildew show up on vinyl panels. Since mold and mildew flourish in humid environments, you'll want to inspect your vinyl house siding throughout the year.
as gray, white, or black spots. While mold and mildew can be power washed away, it can be difficult trying to clean in between
If you notice a lot of mold growing on your siding, you'll want to call a siding contractor as soon as possible. Not only does moldy siding detract from your home's curb appeal, but it can also affect you and your family's health. Mold spores affect indoor air quality, which can especially affect those with allergies or asthma.
Avoid Cracking or Warping
Over time, vinyl siding can become damaged from trapped moisture, UV rays, and even wildlife. If you have damaged vinyl siding, you can be sure that prospective homebuyers will also see it when they walk around the outside of your house. Vinyl siding that has cracked or warped will also need to be replaced to prevent water and mold damage.
The Grand Rapids siding contractors at Renaissance Exteriors & Remodeling are dedicated to helping you improve the curb appeal of your home. If you are interested in exploring your vinyl siding options or finding the best vinyl siding for your home, be sure to call us to schedule your free quote at (616) 446-1248