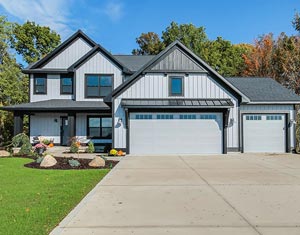 Vinyl siding can last between 20 and 40 years. But you'll need to keep up on regular maintenance to maintain your home's curb appeal. Otherwise, your vinyl siding could melt, mildew, warp, or fade.
Here are the main reasons why homeowners call us for vinyl siding repair and replacement.
1. Poor Siding Installation
Vinyl siding expands and contracts with temperature fluctuations. But this shouldn't be a problem if your siding is installed the correct way.
Vinyl siding expands and contracts with fluctuating temperatures, which is why your contractor shouldn't nail the siding to the fasteners too tightly.
Siding that's nailed too tightly will start to warp or buckle.The nails may also pop to create bulges in exterior siding.
You'll know that your vinyl siding was installed right if you're able to move the panels about a half inch or so horizontally. If you can't do this, call Renaissance Exteriors & Remodeling. It's much better for us to fix this issue now than to replace warped vinyl siding later.
2. Grill or Other Heat Source
Grilling is a summer tradition. But it can also melt your vinyl siding.
Our advice is to always grill at least 10 feet away from your home or outdoor deck. Otherwise, the heat emanating from the grill will melt and warp your home's exterior siding. Grilling too close to your home could also start a fire.
Melted vinyl siding can also be caused by the UV rays reflecting off your neighbor's high efficiency windows—though this is less common.
3. Water Damage
It's important for homeowners to keep tabs on their exterior siding throughout the year. Gray, white, or black spots on your siding are a sign of mold and mildew and should be taken care of right away.
While a lot of companies offer power washing services, this can do more harm than good. Power washing will force water up underneath your vinyl siding, trapping moisture. This can create the perfect conditions for even more mold and mildew.
4. Insect Damage
While rare, it's possible for bugs to live underneath vinyl siding. Termites will especially seek out rotting wood, which is why it's important to keep up on maintenance.
To check for termite damage, take a screwdriver and gently push the tip against your vinyl siding. If the screwdriver tip easily pushes into the siding material, you most likely have an insect problem.
If you notice siding with insect damage, be sure to call a pest control specialist as soon as possible. Once the bug problem is resolved, you'll want to think about replacing vinyl siding.
5. Structural Damage
It's unusual for a house to move slightly, but not impossible. Sometimes old buildings can settle over the years and create slight shifts in the building's structure. When this happens, the siding could buckle or bulge.
If you live in an older home, we recommend you reach out to a structural engineer if you suspect structural damage.
Bonus Tip: Check for Storm Damage
Once in a while, we'll get a storm that causes hail damage to homes. Also, keep in mind that high winds can lift tree branches and other debris, slamming them into the side of your home.
After a storm, it's important that you inspect the exterior of your home for any damage. The sooner you repair a loose siding panel, the less likely you'll have to worry about possible moisture or insects creeping into your home.
Request a Design Consultation for Vinyl Siding
As a siding contractor in Grand Rapids, MI, we work hard to earn your business and even offer other options besides vinyl. To request a design consultation for vinyl siding, call Renaissance Exteriors & Remodeling at (616) 446-1248.
This blog post has been updated.