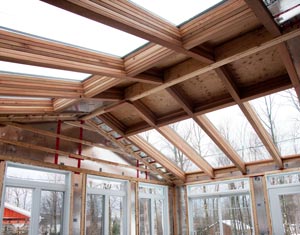 There's more than one way to define the value of a home. The first and most obvious way is through money or your return on investment. But there are also other intangible ways of measuring value, such as creating space in your home for new memories.
Your home should be the safest, most comfortable place in the world. You can't put a price on that. Here's what else you need to know.
Can Room Additions Increase the Value of My House?
Any time you add more living space to your home, its value within the housing market increases. But certain home additions will give you more return on your investment than others. For example,
reports that the average ROI for a bathroom addition is 50%.
Bathroom Addition
A bathroom addition can be great for reducing foot traffic if you only have one bathroom. Instead of fighting your family for bathroom time, why not add another bathroom to your home? A bathroom addition can help reduce family conflict and stress.
Our crew will work with you to get your new bathroom addition designed, constructed, and ready for use.
Bedroom Addition
If your family is growing, or if you plan on having an older relative move in, consider adding a new bedroom. As a remodeling contractor, we can help expand your home to meet the needs of your growing family.
Sunroom Addition
Did you know that exposure to sunlight helps your brain release serotonin? Serotonin is a hormone that helps improve your mood, as well as your abilities to focus and relax. As such, building a multi-season sunroom may help improve your wellbeing year-round.
Greet the rising sun with a cup of coffee or savor a quiet evening at home. A sunroom is a private sanctuary and oasis that helps unlock your connection to nature.
could be one of the best decisions you ever make! Enjoy the outdoors without the nuisance of bugs or nosy neighbors.
Garage Addition
Looking for extra living space? Consider building a room over your garage. This type of garage addition can be perfect if you want to create an apartment for guests or renters. But we recommend that you hire our remodeling team to ensure everything is up to code.
One of the benefits of building a room over your garage is that the foundation is already in place. All we'd have to do is add a second story, along with heating, cooling, and plumbing.
How Much is Too Much?
Adding new space to your home can be a wise financial decision. But you also don't want to own the most expensive house on the block. This can deter buyers who would rather spend the same amount of money to live in a better neighborhood. All home additions should be consistent with your neighborhood's architecture and price range.
Call Renaissance Exteriors & Remodeling
As a (616) 446-1248. You may also fill out our online contact form and someone from our team will reach out to you soon.
, we're proud to serve Grand Rapids and surrounding areas. To request a design consultation, please call Renaissance Exteriors & Remodeling at
This blog post has been updated.