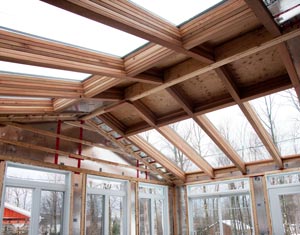 Are you interested in adding a room to a house? We understand that home additions are an investment in your property, which is why we want to make sure you have all the information you need moving forward.
Our home remodeling contractors work efficiently so you and your family can enjoy your room additions as soon as possible. You can trust our home addition contractors to build new sunrooms, bathrooms, bedrooms, and more. Continue reading to learn more!
Can Room Additions Increase the Value of my House?
Any time you add more living space to your home, its value within the housing market increases. However, certain home additions will give you more return on your investment than others. For example, HouseLogic.com reports that the average return on investment for a is 52%.
Bathroom Addition
A bathroom addition can be great for reducing foot traffic if you only have one bathroom. Instead of fighting your family for bathroom time, why not add another bathroom to your home? A bathroom addition can help reduce family conflict and stress. Our room addition contractors will work with you to get your new bathroom addition designed, constructed, and ready for use.
Bedroom Addition
If your family is growing, or if you plan on having an older relative move in, you may be interested in getting a home addition contractors can help your home grow to accommodate the changing needs of your family.
. Our
Sunroom Addition
A sunroom addition can improve your quality of life by increasing your exposure to natural light. If you plan on staying in your home for many more years to come, you may find it worthwhile to choose a home addition (such as a sunroom) that complements your lifestyle. When we think of value, money is often the first thing that pops into our heads. However, your happiness with your home should also be considered in this equation.
It all comes down to your needs as a homeowner. If you are looking to sell your home in the near future, you may be better off investing in a more utilitarian room. However, if you plan to stay in your home for decades to come, why not treat yourself to a room that fits your needs right now?
could be one of the best decisions you ever make!
How Much is Too Much?
While adding new space to your home can be a wise financial decision, you also don't want to own the most expensive house on the block. If this happens, it can deter prospective homebuyers who would rather live in a more upscale neighborhood for the same amount of money. Make sure that any home additions you approve are consistent with your neighborhood's architectural style and price range.
Who Do I Call for Room Additions?
Our home addition contractors in Grand Rapids MI work hard to earn your business. To request a quote for room additions, or our other remodeling services, call Renaissance Exteriors & Remodeling at (616) 446-1248.