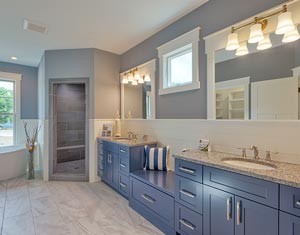 Even a home remodeling, one of your first steps should be to call a contractor experienced in bathroom makeovers. A remodeling contractor will be able to tell you if your bathroom design ideas are feasible for your home. Continue reading to learn our tips for planning bathroom renovations. For more information, call your local bathroom remodeling contractor.
can add value to your home. If you're interested in
Create a Budget
Before you start looking at new bathroom ideas, create a budget so you know how much you're willing to spend. Once you come up with a final number, set aside extra money than what you think you'll need. If there's an unexpected complication or delay in your remodeling plans, you'll be happy to have the extra cash.
Look for Inspiration
Social media (especially Pinterest) is full of remodeling contractors, you should have a clear idea of how you want your new bathroom to look. Inspiration comes from looking at photos of what other homeowners have done with their bathrooms.
. However, before contacting
Hire a Remodeling Contractor
Once you've created a budget and found inspiration, hire an experienced remodeling contractor. A contractor will have the necessary experience to help turn your bathroom design ideas into reality. While there are some home improvement projects you can do on your own (like painting), others will need a bathroom remodeling contractor. For example, you shouldn't expect to do a shower remodel by yourself. Use your best judgment and remember that a contractor will be able to produce quality results.
Add Value to Your Home
Are you trying to sell your house? If so, a bathroom remodel can help your home stand out from the competition. In general, there should be about the same number of bathrooms as bedrooms in your home. This means that a three-bedroom house should have at least two bathrooms. If you only have one bathroom, you could significantly increase the value of your home by adding a new bathroom.
Bigger bathroom additions give you higher returns on investment. According to TheNest.com, adding a bathroom with a shower or tub can increase the resale value of your home by about 20%. A half bathroom, on the other hand, increases your home's value by an average of 10.5%. The type of bathroom addition you choose will depend on your budget and how much space you have in your home.
Even if you plan on staying in your home for years to come, a bathroom remodel can add value to your life. For example, another bathroom can help during the morning rush when everyone is leaving for school and work. Consider a half bath if you don't have enough space for a full or three-quarter bath.
Set a Time Frame
Is your mother-in-law moving in after her hip surgery? We understand that you may be under a deadline to get your bathroom remodel done, which is why we work as efficiently as possible while producing quality results. If you need to meet a deadline, talk with your bathroom contractors to learn what you can expect to get done.
Our Grand Rapids bathroom contractors work hard so you are satisfied with your latest bathroom remodel. We also provide services for outdoor decking, roof replacement, and more. To request your free quote for bathroom renovations, call Renaissance Exteriors & Remodeling at (616) 446-1248.