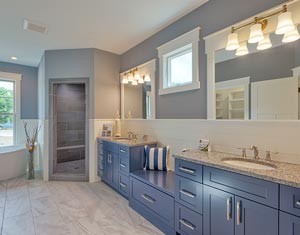 Even a small bathroom remodel can add value to your home and life. But it's important that you set a budget and clear goals before you call a contractor. For example, you may want to improve the accessibility of a bathroom for a loved one with mobility issues. Likewise, you may wish to increase the resale value of your home.
Your goals will help inform your next steps as you plan your bathroom remodel.
Here's how to get started.
Seek Inspiration
There are many sources of inspiration to draw upon. For example, you could create a board on Pinterest or pick up an interior design magazine at the store. You could also check out our gallery to see what we've done for other clients.
Dreaming of what could be is the first step in planning your bathroom remodel. But make sure you anchor those dreams in what's possible with your budget and timeline.
Create a list of features you want for your
and rank them in order of priority. Compare your must-haves with luxury add-ons to determine what's most important.
As a bathroom remodeling company, we love a creative challenge. We'll work with you to create a beautiful, functional bathroom that's within budget.
Start Asking Yourself the Hard Questions
Now it's time to start asking the more difficult questions. There are a lot of logistics that go into planning a bathroom remodel. The good news is that your contractor will be able to help you every step of the way.
Here are some questions to ask yourself:
How much bathroom storage do you need?
Will you need to update your current plumbing?
How long will the remodel take?
How much will your bathroom remodel cost?
Are you hoping to add more features or expand on this bathroom in the future?
You may want to add several new features to your bathroom, which requires planning. For example, you'll need to determine the location of your current plumbing before you add a new tub.
Related:Home Remodeling FAQ →
Create a Budget
Before you start looking at
, create a budget so you know how much you're willing to spend. Once you come up with a final number, set aside more money than what you think you'll need.
If there's an unexpected complication or delay in your remodeling plans, you'll be happy to have the extra cash.
Hire a Remodeling Contractor
Always hire an experienced remodeling contractor to handle your project. It's true that you can handle some home improvement jobs on your own, such as painting walls. But remodeling is best left to the professionals.
For example, we wouldn't recommend that you handle anything that involves plumbing. A licensed contractor will ensure that your remodel is safe and code-compliant.
Add Value to Your Home
Are you trying to sell your house? If so, a bathroom remodel can help you stand out from the competition.
In general, here's the formula we use for calculating how many bathrooms should be in a home:
Number of Bedrooms - 1 = Number of Bathrooms You Need
This means that a three-bedroom house should have at least two bathrooms.
Do you only have one bathroom? If so, you could increase the resale value of your home by adding another bathroom. The bigger the bathroom, the higher your return on investment. For example, adding a master bath can increase the resale value of your home by about 20%. A half bathroom increases your home's value by an average of 10.5%.
The type of bathroom addition you choose will depend on your budget and how much space you have in your home.
Even if you plan on staying in your home for years to come, a bathroom remodel can add value to your life. For example, imagine how another bathroom could help during the morning rush when everyone is leaving for school and work!
Set a Time Frame
It's important to set a time frame for your remodeling project, especially if you're preparing space for another person to move into your home. For example, you may be preparing for a new child or an aging parent.
We understand that you may be under a time crunch to get your bathroom remodel done. This is why we work as efficiently as possible while producing quality results.
Request a Quote for Your Bathroom Remodel
Renaissance Exteriors & Remodeling is a bathroom remodeling contractor in Grand Rapids, MI. As such, we'd be more than happy to help bring your design ideas to life.
We also provide other services, such as outdoor decking and kitchen remodeling. Unlike other companies, we can elevate the function and beauty of your entire home.
To request a quote for a bathroom remodel, please call (616) 446-1284. You may also fill out our online contact form and someone from our team will reach out to you soon.
This blog post has been updated.