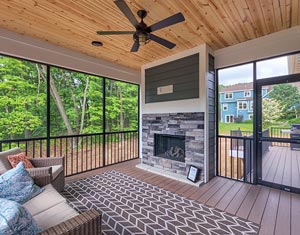 As a remodeling contractor, we often hear the same types of questions from our clients. Whether you're concerned about your budget or an upcoming deadline, we'd be more than happy to help.
The more you know about home remodeling, the more peace of mind you'll feel once your project is underway. That's why we always encourage our clients to ask us plenty of questions before we get started. We also encourage questions during and after remodeling.
If you're not sure what to ask, our list of questions below is a good place to start.
What Remodeling Experience Do You Have?
We have experience remodeling all types and styles of homes. As such, you are more than welcome to view our project gallery. You can also check out our testimonials from happy clients.
You can trust us to always provide quality craftsmanship.
Our remodeling services include:
Can I Stay in My House During Remodeling?
You can trust our crew to always be polite and professional while working in your home. That being said, remodeling creates
that is disruptive to your day-to-day life. For this reason, you may choose to stay in a hotel or with family while we're remodeling your home.
Also, keep in mind that certain remodeling projects are more inconvenient than others. For example, a kitchen remodel will require you to prepare your meals somewhere else in the home. You'll also need a place to store your food.
Related:7 Tips for Your Kitchen Remodel →
How Can I Protect My Valuables During Remodeling?
Clear the remodeling space of any breakables or valuables. This includes taking down any framed photos or other wall decorations. We also recommend moving expensive items such as computers or TVs so they're not in the way. Drape and secure sheets over furniture or plan on moving them to another room.
How Can I Protect the Other Areas of My Home?
To protect the other areas of your home from drywall dust, you can seal off entryways to your living spaces. Also, seal up air ducts and shut down heating and cooling systems. This will prevent construction dust from circulating throughout your house.
Who Will Get the Necessary Permits?
As a
, we'll take the initiative of getting you the proper permits. But it's also possible to get the permits yourself.
How Much Will My Remodel Cost?
It's hard for us to make an accurate estimate without first seeing your home and determining the scope of work. When calculating an estimate, we will also include the cost of materials and labor.
Request a Design Consultation →
Learn More About Home Remodeling
Renaissance Exteriors & Remodeling is a reputable
. As such, we'd be more than happy to help you transform your house into the home of your dreams.
To request a design consultation, please call Renaissance Exteriors & Remodeling at (616) 446-1248. You may also fill out our online contact form and we'll reach out to you soon to discuss your project.
This blog post has been updated.