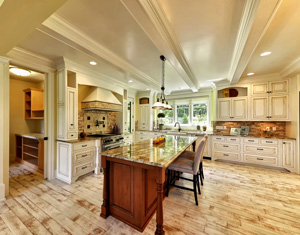 According to 81.1%. But you need to be honest with yourself on why you're remodeling.
, a small kitchen remodel can give you a return on investment of up to
If you're selling, you'll want to focus on value-add features to attract buyers. If you plan on staying put, focus on what will add value to your life.
Here's what you need to know about how remodeling adds value, whether you're selling or staying.
If You're Selling... Add Resale Value to Your Home
The housing market is always changing. Likewise, some neighborhoods are more desirable and competitive than others. As a result, some homeowners may have difficulty when it's time to sell. Finding someone who's willing to pay what your house is worth can also be challenging.
If you plan on selling your home soon, a kitchen remodeling project is a good place to start. But also feel free to explore other options. It's important that you choose upgrades that a homebuyer will appreciate. For example, a buyer won't care if you installed new countertops if the roof is leaking.
Save your money for what will give you the best return on investment. Also, keep in mind that there's a point of diminishing returns.
This means that after you spend a certain amount, your return on investment decreases. In other words, you won't get as much bang for your buck.
Be mindful of this threshold and you'll be able to make the most of your investment.
If You're Staying... Add Value to Your Life
There's no denying that the kitchen is the heart of the home.
About 41% of respondents to a said that they cook more at home since kitchen remodeling. Half of the respondents said that a kitchen remodel helped them have more family time.
Design your kitchen for storage and ergonomics. This will help encourage you to use your kitchen more. You're more likely to cook or bake when you have clear counters and are able to find everything you need.
If you plan on staying in your home, remodel your kitchen with your lifestyle in mind. For example, you may want an island bar if you plan on entertaining.
Since you plan on staying in your home, your opinion matters most. This gives you creative freedom because you don't have to design your kitchen to appeal to the masses. Instead, you can enjoy a kitchen that's customized to your needs.
Hire Our Kitchen Remodelers
Save money by planning your kitchen design from the start. We can help you come up with the best kitchen designs to complement the rest of your home. You may also visit home improvement stores or browse Pinterest to discover ideas for your remodel.
You'll want to make sure your kitchen remodel matches your home's style. That way, the interior design flows from room to room.
Our kitchen remodelers stay with you throughout the entire project. We manage all the details, from design to installation.
Request a Design Consultation
Renaissance Exteriors & Remodeling is a kitchen remodeling contractor in Grand Rapids, MI. As such, you can always expect our crew to be professional, courteous, and hard-working. To request a design consultation for your next project, please call (616) 446-1248.
This blog post has been updated.