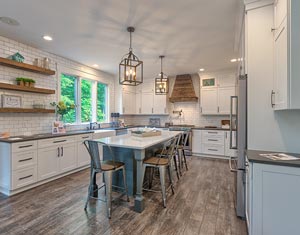 Interested in a kitchen remodel for your home? You're not alone. We get approached by homeowners all the time to upgrade their kitchens. Whether you want to add value to your house or enjoy more home-cooked meals, you can count on our expertise to create the kitchen of your dreams.
Here are some of our tips for planning and carrying out a kitchen remodeling project.
1.) Plan Your Remodel
Give yourself plenty of time to plan before you contact our kitchen remodeling contractors. It's much easier to delete a pin on Pinterest than it is to tell your contractor you want the dishwasher to go on the other wall. Changing your mind once we're in the middle of your kitchen remodel is a quick way to drive up the cost.
2.) Avoid Moving Appliances
Many homeowners don't move their appliances, even for a kitchen remodel. The less demolition and reconstruction your project involves, the less dust and debris you'll have in your house. It also takes a lot of plumbing and electrical work to move a major appliance from one wall to another or to demolish a wall.
3.) Add Storage Space
Tired of having clutter on your kitchen countertops? Consider installing kitchen cabinets that reach the ceiling. While you'll need a ladder to reach the upper shelves, there'll be plenty of space for all your stuff. After all, how often do you use that Christmas platter you inherited from Grandma? We're willing to bet not that often.
It's worth having a clutter free kitchen, even if it means getting on a ladder a couple times a year. As a bonus, you won't ever have to dust the tops of your
again.
4.) Choose Quality Products
We understand you're on a budget. However, it's worth investing in high-quality products for your kitchen makeover. For example, we recommend buying quality kitchen countertops or hanging wall cabinets that are guaranteed to last decades. You get what you pay for during a kitchen remodel.
5.) Respect Architectural Style
Your kitchen is just one part of your home's overall architectural style. If you want to make a dramatic shift in style, you might end up with a
that doesn't match the rest of your house. Our contractors will be able to help you make changes that complement the rest of your home.
6.) Design for Foot Traffic
Think about how you walk through your kitchen. Many interior designers say there is a triangle of foot traffic between the fridge, stove, and oven. Keeping that in mind, it's important that you don't disrupt this natural flow of foot traffic. Otherwise, the layout of your kitchen will become cramped and awkward. Our remodeling contractors will make sure that there is plenty of space for your kitchen island and other amenities.
7.) Communicate with Contractors
Before your kitchen remodeling project begins, we recommend meeting up with the project manager and construction team. This is a great opportunity to discuss expectations, ground rules, and contact information. Make sure you also get the contact information of the kitchen remodeling contractor so you'll be able to reach them during any phase of the project.
Request a Design Consultation With Us
Our kitchen remodeling contractors in Grand Rapids, MI, work hard to make sure you are satisfied with the final result. To request a design consultation, call Renaissance Exteriors & Remodeling at (616) 446-1248.
This blog post has been updated.