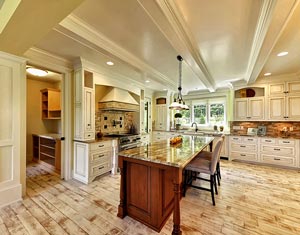 Are you planning a kitchen remodel? Why not ask our contractors about installing granite countertops? Granite countertops give your home a classic aesthetic that will stay popular for years to come. When planning your next kitchen remodel, you'll want to make sure you pick a design you'll still love a year from now.
Continue reading to learn why you should consider granite countertops for your home.
Adds Value to Home
According to HGTV.com, a small kitchen remodel like granite countertop installation can give you an approximate return on investment of 92.9%. Whether you are planning on selling your home in the near future or staying put for years to come, countertop installation is an investment in your home. Granite is a classic material that will stay popular for years to come. This means that you don't have to worry about your kitchen looking dated 5 years from now.
New countertops can help your home stand out from the competition, especially in a buyer's market. Even in a seller's market, a beautiful kitchen can help increase the value of your home so you get better offers from prospective buyers.
Learn more: 7 Tips for Your Kitchen Remodel >>
Each Granite Slab is Unique
Each granite slab is unique. Depending on your design preferences, this could be either a pro or con. Unlike other
, granite also comes in a range of colors so you can complement your home's interior design. If you are looking for uniformity, we recommend steering clear of granite slabs and checking out other types of stone countertops.
Easy to Maintain
Granite countertops are easy to maintain. Simply clean your kitchen countertops with hot water and mild soap. Granite countertops are less porous than other materials (like marble), which means they are able to resist stains better. In fact, marble is so porous that even water can stain it.
If you stain your granite countertops, make a paste out of baking soda and water and gently scrub the stain with a soft washcloth. Most stains can be removed this way so you can enjoy your new granite countertops for years to come.
Durable and Long-Lasting
Granite countertops are a blessing to busy homes because they resist heat, stains, and scratches. This means that you'll be able to cook with confidence without ruining the look of your new kitchen countertops. Other countertop materials aren't as durable, such as marble. For this reason, we often recommend granite countertops for kitchens and other busy workspaces in the home.
Resists Bacteria
Bacteria love to hide in porous
(like marble). Thankfully, granite kitchen countertops can be easily cleaned with a warm soapy washcloth. That way, you'll have peace of mind the next time you cook a recipe that calls for unpasteurized meat and cheese.
Keep in mind that you'll need to exercise proper food safety to keep your countertops clean. For example, you'll need to sanitize any countertop surface that has come in contact with raw meat. While granite countertops are resistant against bacterial contamination, they aren't immune.
Call Renaissance Exteriors & Remodeling
Our Grand Rapids kitchen contractors work hard so you are satisfied with your new granite countertops. We also provide services for the outside of your home, such as roof replacement and vinyl siding installation. To request your design consultation for granite countertop installation, call Renaissance Exteriors & Remodeling at (616) 446-1248.