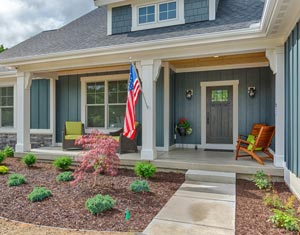 According to new steel front door can give you a 75% return on investment. This is much higher than what you can get from other home improvement projects. But it's still important that you choose the perfect front door color for your home.
, a
The front door improves both the security and curb appeal of your home. It's also one of the first things people notice when they pull into your driveway.
Whether your style is more traditional or modern, we can guarantee that there's a front door color for you.
Here's
.
Respect Architectural Style
Do you own a historical house? If so, you know that certain colors may clash with your home's architectural style. Certain modern colors may also be historically inaccurate for your home's time period.
Even if you don't own a historical home, certain colors may clash with the rest of your neighborhood.
Borrow From Mother Nature
Mother Nature often knows best. That's why we recommend that you look to the outdoors for inspiration. For example, people often associate light sage green with calmness, nature, and peace.
Explore different shades of green, blue, and brown until you discover a color that resonates with your personal style.
Honor Tradition
Does your home have more of a traditional style? If so, you can't go wrong with deep blues, grays, and other neutral colors. All these shades will help give your home a timeless style. Even a classic red will age well if it accentuates the rest of your home's exterior.
Also, neutral-colored front doors are very versatile. This allows you to change your shutters, windows, landscaping, and other exterior features with relative ease.
Experiment with Pops of Color
The color you choose for your front door should complement your home. But it should also reflect your own personal style. For example, you may feel drawn to brighter colors if you identify as being creative or an extrovert.
Aren't sure if you're ready to take the plunge? Consider warm front door colors (like red, orange, and yellow) in darker shades. For example, a burgundy front door can be a welcome pop of color that won't shock you like fire engine red.
Choose Light Neutrals
If you have a small house, a white front door may be your best option. Light colors will help your home seem more spacious and airy from the outside. This is especially the case when you use the same color for your trim and siding.
This simple trick can help make the most of your small home's curb appeal. That way, it looks bigger than it actually is from the street.
Request a Design Consultation
Renaissance Exteriors & Remodeling would be more than happy to help you with your next project. We can help you explore your options for exterior doors, including materials and colors. That way, you'll feel peace of mind about the latest upgrade to your home.
As a remodeling contractor, we're proud to serve Grand Rapids and surrounding West Michigan areas. To request a design consultation, call Renaissance Exteriors & Remodeling at (616) 446-1248. You may also fill out our online contact form and someone from our team will reach out to you soon.
This blog post has been updated.