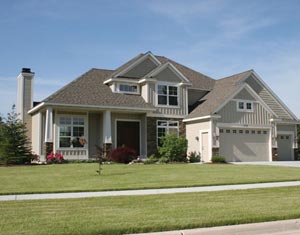 Trying to sell your home and want to upstage the competition? Plan on keeping your home and making your neighbors green with envy? Either way, you'll want to learn how new roofing and siding can improve the curb appeal of your home.
As a Grand Rapids remodeling contractor, we offer a range of services to help you take pride in your home's curb appeal.
Here's how to get started.
Replace Vinyl Siding
Has your vinyl siding seen better days? Are the panels sun-faded or mildewed? If so, it may be time to consider replacing your vinyl siding. Be sure to check out our blog post to learn more about the average lifespan of vinyl siding.
Vinyl siding comes in a wide range of colors. This gives you the opportunity to customize your home's exterior. For example, many homeowners borrow colors from Mother Nature with soft greens.
No matter what color vinyl siding you choose, make sure that it complements your roof. That way, your home will have a beautiful and purposeful design.
Add Exterior Trim
The right exterior trim will flatter the architectural lines of your house. It'll also frame your windows in a way that attracts the eye. Vinyl trim needs little to no maintenance. It's also resistant to rot, insects, cracking, and warping.
Many people believe that exterior trim is only for show. But the truth is that trim can also help protect your windows, doors, and corners from water infiltration. In other words, it's an extra level of protection for your home.
Consider Adding a Gable Peak
Add visual interest by modifying the shape of your roof. Depending on the current lines of your roof, you may want to embellish the top of your home with
.
Gable peaks can help make your home exude a timeless classic style. You can also choose to customize your roof's new gable peak by adorning it with an accent.
Extend the Eaves
Extending your home's eaves is ideal for around the front door. That way, you're able to protect your guests from the rain while they wait for you to open the door.
Extended eaves are also great for shielding rooms from receiving too much sunlight. Have an east-facing bedroom? Eave extensions can help you sleep in without the sun waking you up at the crack of dawn.
Replace the Roof
The average roof lasts about 20 years, depending on the materials that the contractor used. We understand that roof replacement is an investment in your home. This is why we give you the facts you need to make informed decisions. Our roofing contractors are more than qualified to help transform your home.
Old deteriorating roofs can make your home look neglected.
for a boost in curb appeal that will last for years to come.
Updating your home's roofing and siding can be easy when you work with us. We'll work with your budget and design ideas to create a home exterior you'll love.
Related:5 Signs You Need a New Roof →
Request a Design Consultation From Us
Renaissance Exteriors & Remodeling is a remodeling contractor in Grand Rapids, MI. As such, we'd be more than happy to improve the curb appeal of your home with new roofing and siding.
To request a design consultation, please call Renaissance Exteriors & Remodeling at (616) 446-1248. You may also fill out our online contact form and someone from our team will reach out to you soon.
This blog post has been updated.