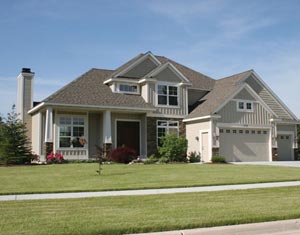 Increase your home's curb appeal with new roofing and siding.
Whether you are trying to compete with the neighbors or you are looking to sell your home, new roofing and siding can help make your home stand out. Our roofing and siding contractors offer quality services so that our clients can take pride in their homes. provide the perfect design opportunities to breathe life into a home's exterior.
Below, we have listed our favorite ways to take advantage of roofing and siding. Continue reading to learn more!
Improve Curb Appeal
Replace Vinyl Siding
Replacing vinyl siding can significantly improve the curb appeal of your home. It is usually best to borrow from Mother Nature's color palette when choosing new vinyl siding for your home. For example, soft greens and yellows are often perceived as aesthetically pleasing. Also, keep in mind that high contrast homes have the tendency to attract the eye to structural flaws.
Add Trimming
The right trimming can show off the architectural lines of your house and frame windows in a way that flatters them. When picking a color for your new trimming, be sure to select a hue that will best complement your house siding. A pleasing color combination will do wonders to beautify the exterior of your home.
Consider Adding a Gable Peak
Add visual interest by modifying the shape of your roof. Depending on the current lines of your roof, you may want to embellish the top of your home with gabled peaks. Gable peaks can help make your home exude a classic style that can tempt potential homebuyers to venture further. You can also choose to customize your roof's new gable peak by adorning it with an accent.
Extend Eaves
Extending your home's eaves is ideal for around the front door. That way, your guests don't have to be drenched in rain while they wait for you to open the door. Extended eaves are also great for shielding rooms from receiving too much blinding sunlight. Have an east-facing bedroom? Eave extensions can help you sleep in without being woken up at daybreak.
Replace Roof
The average roof last about 20 years, depending on the materials that were used. We understand that roof replacement is an investment in your home, which is why we give you the facts you need to make informed decisions. Our roofing contractors are more than qualified to help transform your home. Old deteriorating roofs can make your home look neglected. Upgrade your residential roofing for a boost in curb appeal that will last for years to come.
Updating your home's roofing and siding contractors take into account both your budget and design preferences when coming up with a plan that will work best for you. We make it our mission to give West Michigan homeowners a sense of pride in their houses by offering services for roof replacement and siding installation.
can be easy when you work with us. Our
Our roofing and siding contractors in Grand Rapids MI are dedicated towards helping your home look its best. If you are interested in getting a quote for roofing and siding, call Renaissance Exteriors & Remodeling at (616) 446-1248.