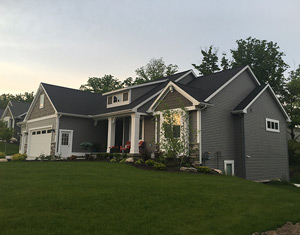 Are your roof shingles starting to curl and buckle? Are you cleaning out shingle granules out of your gutters? If so, it's time for roof replacement. Our roofing contractors in Grand Rapids, MI understand that a new roof is an investment in your home.
Continue reading to learn about the different types of roofs you could choose. We are here to help you make an informed decision about your roof. Contact us today for more information!
Which roof type is best?
The roofing contractors will be able to help you better understand your options by answering any questions you might have.
for your home depends on your budget, design preferences, and expectations for lifespan. Our
Here's a list of five different types of roofs you should consider:
3-Tab Asphalt Shingles
Asphalt Architectural Shingles
Steel Roofing
Clay Roof Tiles
Slate Roof Tiles
What type of roof will last the longest?
The lifespan of your roof is determined by its materials, maintenance, and climate. For example, asphalt roofing shingles may last longer in a region with mild winters. In general, slate roof tiles have the longest lifespan of about 100 years when given proper care. See our table below to learn what roofing materials last the longest.
| | |
| --- | --- |
| Roof Types | Average Lifespan |
| Slate Roof Tiles | 60 to 150 years |
| Clay Roof Tiles | 60 to 150 years |
| Steel Roofing | 50 years |
| Asphalt Architectural Shingles | 30 years |
| 3-Tab Asphalt Shingles | 20 years |
What is the most common type of roof?
Asphalt shingles are popular among homeowners because they're often more affordable than other types of roofing materials. Asphalt shingles also come in a range of styles and colors to complement the exterior of your home. There are many types of asphalt roof shingles to choose from, including those that resist hail damage, algae growth, and UV rays. For example, choosing light roof colors can help reflect the sun's rays in the summer, improving the energy efficiency of your home.
What color roof is most energy efficient?
Light roof colors are the most energy efficient because they reflect the sun's rays. Similar to how dark roofing materials absorb heat, light roofing materials deflect heat to help keep your home more comfortable in the summer. Asphalt roof shingles come in a range of both light and dark colors, including white and gray.
What types of metal roofs are there?
We highly recommend Steel roofing is also able to resist high winds, hail, and other adverse weather.
because it tends to be more affordable than roofs made of aluminum, zinc, and copper.
Here's a list of five types of metal roofs:
1.) Steel
2.) Copper
3.) Aluminum
Which roof is better, metal or shingle?
Many people prefer metal roofing over shingles for its ability to reflect the sun's heat and improve energy efficiency. If you have an attic in your home that gets hot, we recommend metal roofing to bring your home down to a comfortable temperature. Steel roofing has a greater return on investment than shingles and can also be made to look like other materials.
Our Grand Rapids, MI roofing contractors work hard to earn your business. To request a design consultation for roof replacement, call Renaissance Exteriors & Remodeling at (616) 446-1248.