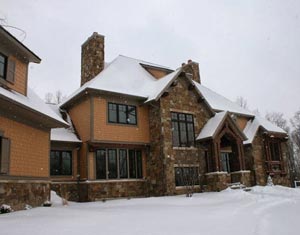 During the holidays, the last thing you want to do is deal with a leaking roof and emergency repairs. That's why we recommend reaching out to our roofing contractors in Grand Rapids, MI. A roofing inspection can reveal missing shingles, storm damage, and other issues. Detecting these issues early can help you avoid water damage when winter arrives.
Here's what you need to know.
Icicles on Gutters
Huge icicles can be a sign of insufficient insulation within your home. As a result, icicles can form and put added weight along the roof's edge, especially on gutters.
Gutters fulfill the important purpose of diverting water away from your home. But icicles may be heavy enough to rip off your gutters from the side of your home. The extra weight of snow, particularly wet snow, can cause similar problems for your roof.
Ice Damming
Ice dams form when the temperature of the roof is higher than that of the eaves. As snow melts on the warm roof, the water travels downward towards the eaves. This water freezes as an ice sheet once it reaches the cold eaves, which prevents future meltwater from escaping.
If the ice dam persists, the water takes the path of least resistance by seeping into your ceilings and walls.
Follow these tips to help avoid ice damming:
Use heated cables to prevent ice dams
Use a long-handled snow rake to scrape off snow along roof edges
Increase insulation in needed areas
Aim fan in attic to blast cold air at the leak's source
If you notice
, do NOT try to hack at the ice with a shovel or similar tool. This will only cause more damage to your roof, especially to the shingles.
If you notice anything suspicious with your roof's performance, hire one of our local roofers to take a look. That way, you can avoid water damage and other complications.
How Our Roofing Contractors Can Help
Our roofing contractors have years of experience with helping West Michigan homeowners. If you suspect your roof needs repairs, please do not hesitate to call our office.
We can send out one of our roofing contractors to roof repair, we can provide you with an estimate so you can start planning your next steps.
for any damage. If you need
During the winter months, we strongly advise homeowners NOT to get on their roofs. Snow and ice can make your roof a slippery unsafe surface to walk on. Even when residential roofing is dry, it's best to stay on the ground if you lack the proper training or tools.
Hire our roofing contractors if you suspect something is wrong, especially during the winter.
Call Renaissance Exteriors & Remodeling
Aren't sure if your roof needs repairs before winter? Call Renaissance Exteriors & Remodeling! Our (616) 446-1248.
, would be more than happy to inspect your roof before the snow flies. To request a quote for roofing inspection or repair, please call
This blog post has been updated.