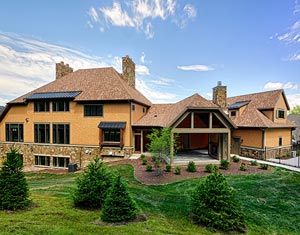 A new roof could mean the difference between protecting your home and having to deal with water and mold damage. Likewise, any holes in your roof invite mice, squirrels, insects, birds, and other pests to move into your house. Once these pests are established in your home, they can be difficult to evict!
Our advice? Keep an eye on the condition of your roof and give us a call if you need to schedule repairs or consider a total replacement. While getting a new roof is an investment, you're better off replacing it before your home is compromised.
Here's a more in-depth look at what you can expect with roofing repairs and replacement.
Roof Repair
Depending on the condition of your roof, a repair can be a permanent or temporary fix. For example, you may need a temporary roof repair to tide you over until the weather clears. We often get called for emergency roof repair after rainstorms and high winds.
Sometimes we may only need to
to make your home watertight. Other times, you may need more extensive repairs. If the cost of repair rivals that of replacement, you may be better off with a new roof.
Emergency Roof Repair
There's little else you can do during a rainstorm but call our roofing contractors. Once the rain subsides, it'll be safe enough for us to inspect your roof. Do NOT try to climb onto the roof yourself, especially when it's raining. It's not worth slipping and falling off your roof, risking serious injury. Instead, wait for our roofing contractors to arrive.
A leaking roof is an emergency. The longer you wait to call our roofing contractors, the more water will drip into your home. Water damage only gets worse with time, which is why you should call us as soon as you notice your roof is leaking.
Roof Replacement
It's important to remember that your roof shields your home from the elements. Yet, shingles can get damaged by debris thrown by high winds, ice dams, and lack of maintenance. Are the roof shingles starting to curl or buckle? Does your roof look discolored from the street? These are both signs you may need a roof replacement.
Have the other houses on your street had their roofs recently replaced? If so, you may need to replace your roof sooner than you think. Property developers tend to build entire neighborhoods at once. This means that your home (and roof) is approximately the same age as your neighbors'.
How Long Does a Roof Last in Michigan?
asphalt architectural shingles can last up to 30 years. The quality of installation will also affect the lifespan of residential roofing. This is why our roofing contractors pay attention to the smallest of details. When done right, roof replacement is a lasting investment in your home.
will depend on installation, materials, and maintenance. For example,
Still unsure if you need a roof replacement? Schedule a time for one of our roofing contractors to come out to your home. We'll inspect the condition of your roof to determine if you need repair or replacement. The best times to replace your roof are late spring, summer, and early fall.
Call Renaissance Exteriors & Remodeling
Our roofing contractors in Grand Rapids, MI, work hard to earn your business. To request a design consultation for any of our roofing services, call Renaissance Exteriors & Remodeling at (616) 446-1248.
This blog post has been updated.