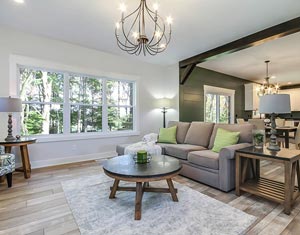 Spring is one of the best times to explore replacement windows for your home. Not only is the weather mild, but you have plenty of time to replace windows before winter. We understand that are an investment in your home.
As a result, our window contractors in Grand Rapids, MI will be more than happy to walk you through the process. Continue reading to learn what types of windows are best for your home.
Which Windows Should You Choose?
Single or Double-Hung Windows
A double-hung window can move up and down to let in fresh air. Unlike other window styles, a double-hung window has two moveable panels (sashes). A single-hung window is similar, except it only has one sash. Sash windows are perfect for high-humidity rooms that need ventilation like kitchens and bathrooms. A single or double-hung window can also accommodate an air conditioner in hot weather. When you're ready to clean your window, simply tilt the sash for better access.
Sliding Windows
A sliding window moves along a track to let in fresh air. While horizontal sliding windows are often found in contemporary style homes, there's no reason why they can't complement traditional interior design. Thereplacement windows you choose will depend on your unique design preferences and the vision you have for your home.
Casement Windows
Casement windows swing outward when you open them via a crank. During installation, you can choose whether you prefer the window hinges to be on the right or left side. These crank-out windows open all the way to give your home more ventilation than other types of house windows. However, you'll need to clear nearby bushes or trees that block .
Fixed Windows
A beautiful view deserves a fixed window. While fixed windows don't open, they flood your home with natural light. If you want a room to feel spacious and airy, install fixed windows. A fixed window is often paired with functional windows on either side so you have the benefit of natural light and fresh air. Our window contractors can help you find the right balance of styles to complement your home.
Picture Windows
A picture window can't be opened, but is designed to show off a beautiful view and let in sunlight. A picture window is unique from other window types because it's made of a single uninterrupted pane of glass. Picture windows are perfect for rooms where you want to show off the view. Since picture windows can get quite large, we recommend exploring energy-efficient options. Replacement windows that are energy efficient can help you save money in the long run on heating and cooling.
Bay Windows
A bay window is similar to a picture window, except it usually has casement windows on either side. Bay windows are perfect for living rooms where you want to show off the view, but also let fresh air in the home. We offer different styles of bay windows so you can find the right one for your home.
Our window contractors in Grand Rapids, MI work hard to earn your business. To request a design consultation for replacement windows, call Renaissance Exteriors & Remodeling at (616) 446-1248.