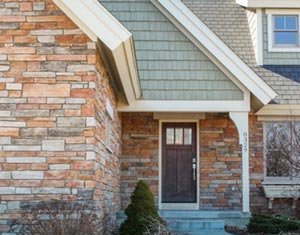 House siding is your first line of defense against precipitation, wind, animals, insects, and heat loss. Fortunately, we're able to install fiber cement siding during the fall to protect the exterior of your home from the elements.
Fiber cement is built to last because it's made of cement, sand, and cellulose fibers. Continue reading to learn why our siding contractors often recommend fiber cement siding.
Benefits of Fiber Cement Siding
1.) Weather Resistance
If you choose fiber cement, you won't have to worry about how freeze-thaw cycles affect your exterior siding. Fiber cement doesn't expand and contract with fluctuating temperatures like other building materials. Instead, fiber cement siding is resistant to cold temperatures so it won't crack or break.
With proper installation, cement siding is also water resistant. Cement board siding protects your home from melting snow and ice, which means your risk of mold, mildew, and rot goes down significantly.
2.) Built to Last
Fiber cement is not only water resistant, but is durable against wind, rain, snow, and even hail. The best part is that fiber cement boards can be made to look like wood shingles or planks. Fiber cement siding even comes in a range of colors and can be painted to complement the exterior of your home. Fiber cement siding is durable enough to withstand winter weather, yet customizable enough to add curb appeal to your home.
3.) Resistance to Mold or Mildew
People spend more time indoors during the winter, which means you'll want to protect the air quality inside your home. Since fiber cement siding doesn't have any overlapping seams, you don't have to worry about trapped moisture creating the perfect environment for mold and mildew.
Fiber cement siding prevents allergens from entering your home so you and your family can breathe easy. Not all house siding options prevent mold and mildew like fiber cement, which is why you'll want to consult with one of our siding contractors.
4.) Protection from Animals and Bugs
In the fall, animals see your home as the perfect shelter from the cold weather ahead. If you're not careful, opportunistic critters may try to burrow or chew through your house siding. Thankfully, fiber cement is strong enough that squirrels can't chew through siding to make a nest inside your walls.
Fiber cement is also durable enough to prevent termites and other types of insects from getting into your home. It's much easier to prevent an invasion than to deal with the aftermath.
5.) Energy Efficiency
To improve the energy efficiency of your home, you can pair siding contractors will be able to recommend the best products to improve the energy efficiency of your home.
with wall insulation and weather barriers. When you replace siding, it's the perfect opportunity to install more insulation. Insulation not only prevents heat loss, but decreases your utility bills. Our
Our Grand Rapids siding contractors work hard to earn your business and are committed to excellence. To request your free quote for or installation, call Renaissance Exteriors & Remodeling at (616) 446-1248.