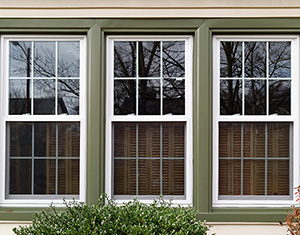 Wooden and vinyl window frames offer roughly the same energy efficiency. So your determining factors will end up being budget, maintenance, and appearance. In general, wooden window frames need more upkeep and cost more. But they also offer a higher resale value than vinyl window frames and tend to last longer.
Here are the main differences between wooden and vinyl window frames.
Cost
In general, wood windows cost more than vinyl but you won't have to replace them as often. Wooden windows can last a lifetime when you keep up on maintenance.
Wooden windows cost more than vinyl because they often take more work to install. For example, our crew may have to slightly alter the fit of the windows so they can slide into place. They may also have to sand and
.
In comparison, vinyl windows are lighter and easier to install. We don't need to alter the fit of vinyl windows because we install them as-is. This means no sanding or staining either.
All these factors affect the
. But you'll need to request an estimate with us to determine the total cost of your project.
Maintainance
You'll need to re-stain or re-varnish wooden windows every 1 to 2 years. Otherwise, the rich color of the wood will fade over time as it's exposed to the elements. Also, you'll want to keep up on maintenance to protect your windows from rotting and insects.
If that level of maintenance doesn't appeal to you, consider vinyl windows instead. You don't have to paint or stain vinyl windows like you would with their wooden counterparts. Also, vinyl window frames won't rot. But they will discolor under intense heat.
Vinyl windows are also easy to clean if they're covered in dust and dirt. Just use soap and water.
Customization Options
Wooden window frames have a natural, rugged aesthetic. They're also the most accepting of paint, compared to other types of exterior windows. For example, we do NOT recommend painting vinyl window frames.
While you can paint vinyl window frames, that doesn't mean that you should. This is because paint does not stick well to vinyl. Once the paint flakes off, your windows may look worse than when you first started painting. Also, dark paint colors will make the window frames absorb more sunlight. This will damage the frames more in the long run.
If your vinyl windows discolor or fade over time, your best option will be to replace them. To learn more, check out our blog post that explains the signs you should replace your windows.
If you like the look of wooden frames, keep in mind that we can use a woodgrain laminate for vinyl windows. That way, you can copy the natural aesthetic of wood while still sticking to your budget.
Conclusion
Vinyl windows cost less to install than wood windows and need less maintenance in the long run. But wooden windows can last a lifetime if you keep up on maintenance. For example, you may need to re-stain and re-varnish wooden frames every 1 to 2 years. Wooden window frames will also add more resell value to your home than their vinyl counterparts.
Call Today to Request a Design Consultation!
Our window replacement contractors in Grand Rapids, MI, work hard to earn your business. To request a design consultation, call Renaissance Exteriors & Remodeling at (616) 446-1248. We hope we hear from you soon!
This blog post has been updated.